Sharing is caring!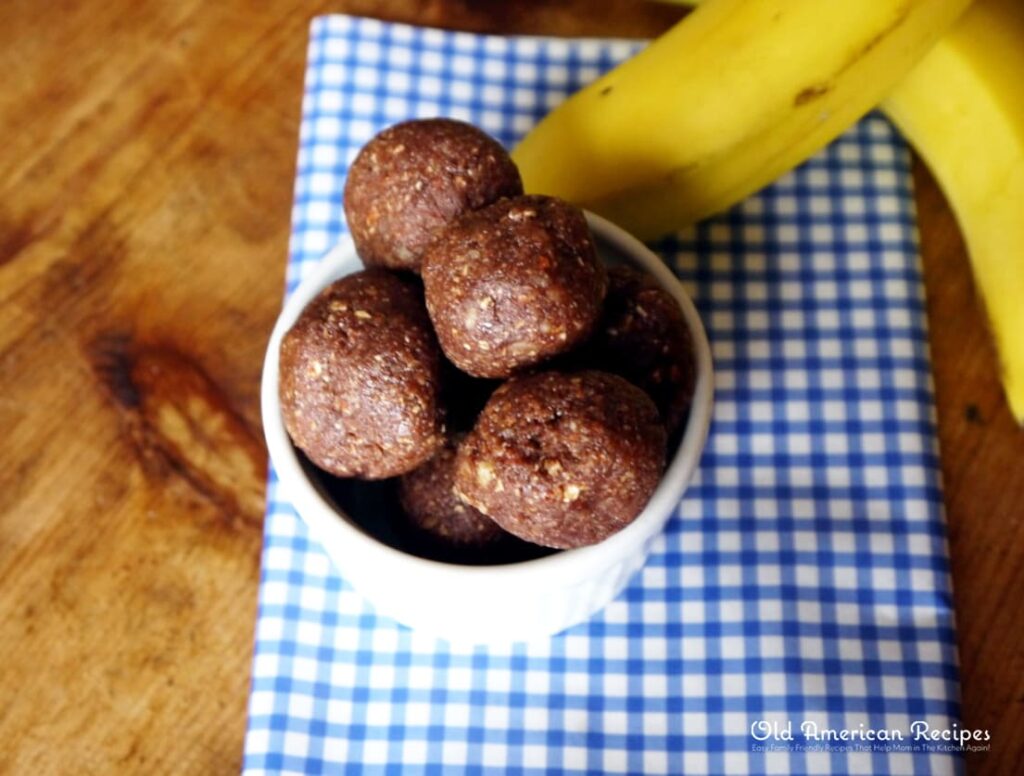 Never have 3pm snack anxiety again when these are around. They are gluten free, vegan, contain no processed sugars, and are full of healthy fats and complex carbs. And did I mention they taste just a little too much like chocolate banana bread?!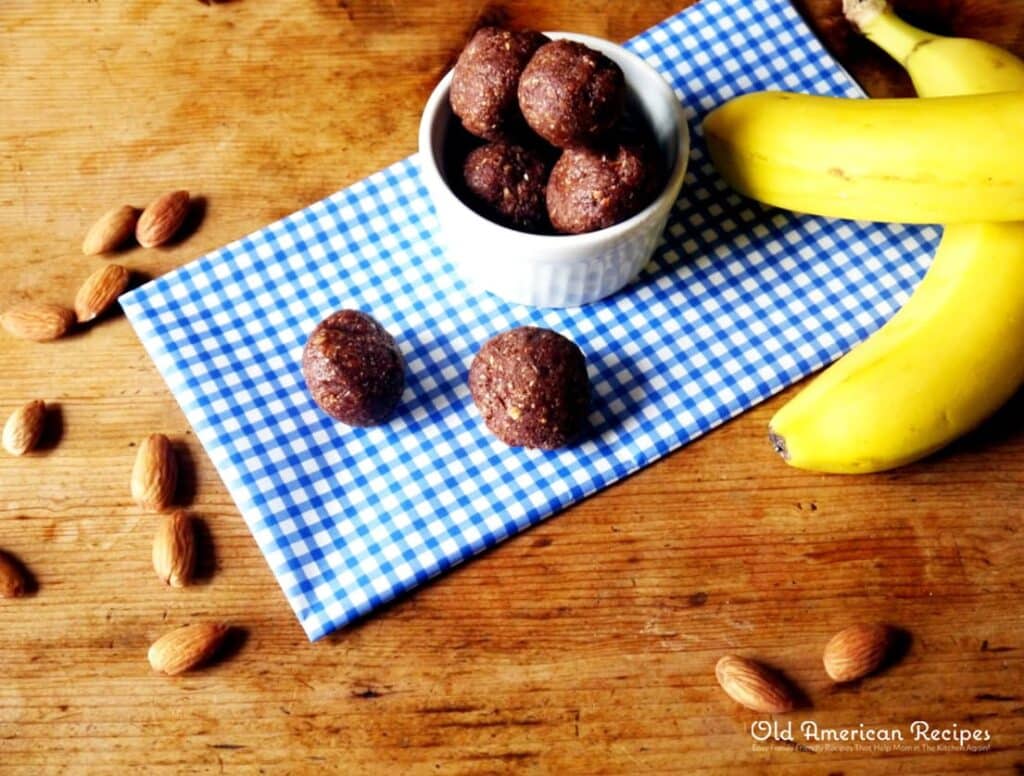 I have to say…I  really tried to come up with better names for these. Writing "balls" and "snack" in one sentence felt…food pornographic? But hey, that's a thing. #Foodporn is even a well-used hashtag. #Balls4Snacks – let's make it happen, people.
Now I'm taking my head out of the gutter. The 3pm snack time can be a hazardous zone. How many of us have eaten healthy breakfasts, packed wholesome lunches, and then it just is pushed to the wayside in the afternoon when they put out the leftover cookies and sandwiches from that meeting in the break room? My issue is that I assume that the healthy brown bag lunch that I pack will be enough to hold me over until dinner, and then I'm famished by 4pm. I often find myself searching around for a snack and everything seems enticing – even foods that normally wouldn't meet my nutrition standards.  So that's how this recipe came intro fruition. I really wanted to make sure that I have healthy, unprocessed options to reach for if hunger strikes in the afternoon, and that I can easily stash in my bag.
These will power you through until dinner, through a workout, and distract you from your end-of-day meeting. They take only a few steps to make, use whole ingredients that we all can recognize, are 100% portable, and are even vegan and gluten free.  And they taste just. like. dessert. I ate five four dessert the other day. Whoops!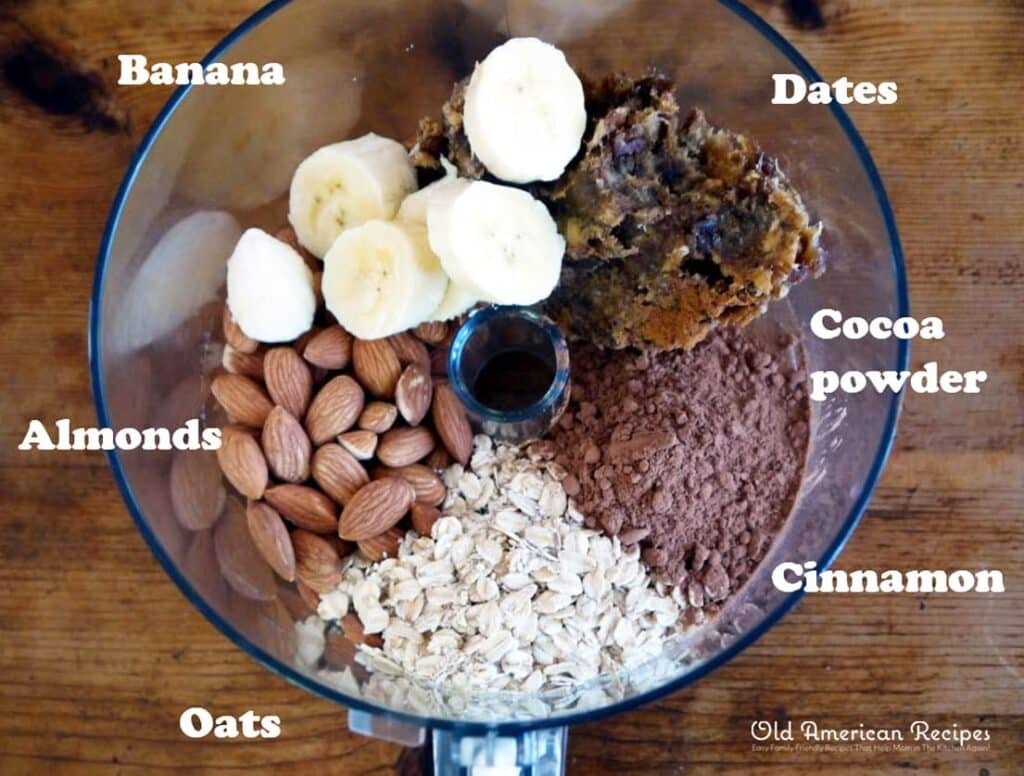 Your base ingredients are as follows – almonds, oats, cinnamon, cocoa powder, and a banana. That's all folks. Pulse all of that up in your food processor, roll into a ball and refrigerate, and then roll into littler balls (mine were bigger than one of those large gumballs). Take 2-3 of these with you to work every day, and when you need a pick me up in the afternoon, you know that you brought something good for you that you can munch on. Balls to munch on for all!
Other bonuses to making these awesome snacks throughout the week:
Pre-Workout Fuel: They are the perfect thing to eat before an early morning workout, if you don't want to chow down a full breakfast but don't like to sweat on an empty stomach
Healthy dessert: They are also decadent-tasting enough to be a no added sugar dessert after dinner!
Portion Control: Limiting yourself to 1 or 2 is easy since they are pre-proportioned
Weight Loss Friendly: At <50 calories each, you can have more than one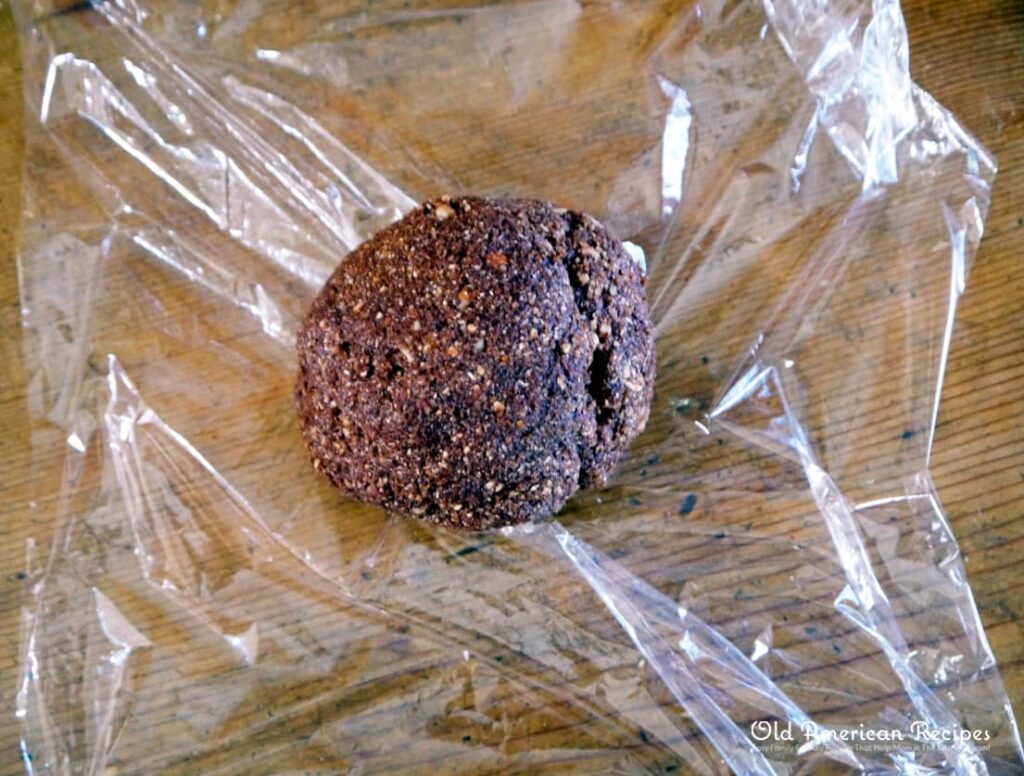 It's always frustrating when you have a solid breakfast and lunch, and then feel unprepared for snacktime. Hopefully I've given you an idea on how to resolve this for your week ahead! Oh – and they freeze beautifully. So even if you don't eat them all in one week (and this recipe makes a lot!) keep em in your freezer until hunger strikes.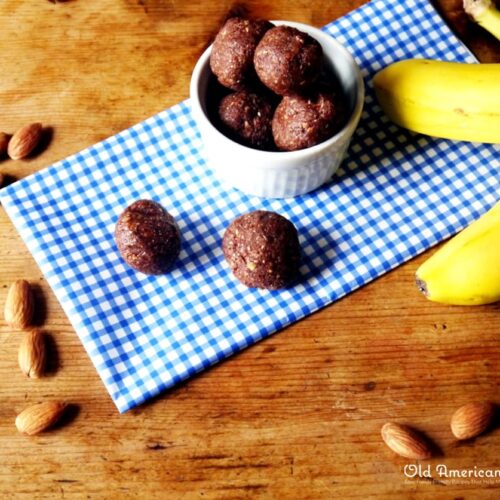 Chocolate Banana Bread Snack Balls
These no-bake,portable treat are made with whole foods, taste like dessert, and will power you from 3pm to dinnertime!
Ingredients  
½

cup

whole almonds

2

tbsp

cocoa powder

2

tsp

cinnamon

1

cup

date paste

or use whole, dry, unseeded dates

½

banana

⅓

cup

rolled oats
Instructions 
Place ingredients into a food processor

Pulse until a dough ball forms

Cover dough ball in saran wrap and place in refrigerator

Let harden in the fridge, about 20 minutes

Remove, and form into bite size balls

Store in the fridge or freezer (depending on the texture you'd like!) for up to one week
Notes
NUTRITION INFORMATION
Serving size: 1 ball Calories: <50

Sharing is caring!