Sharing is caring!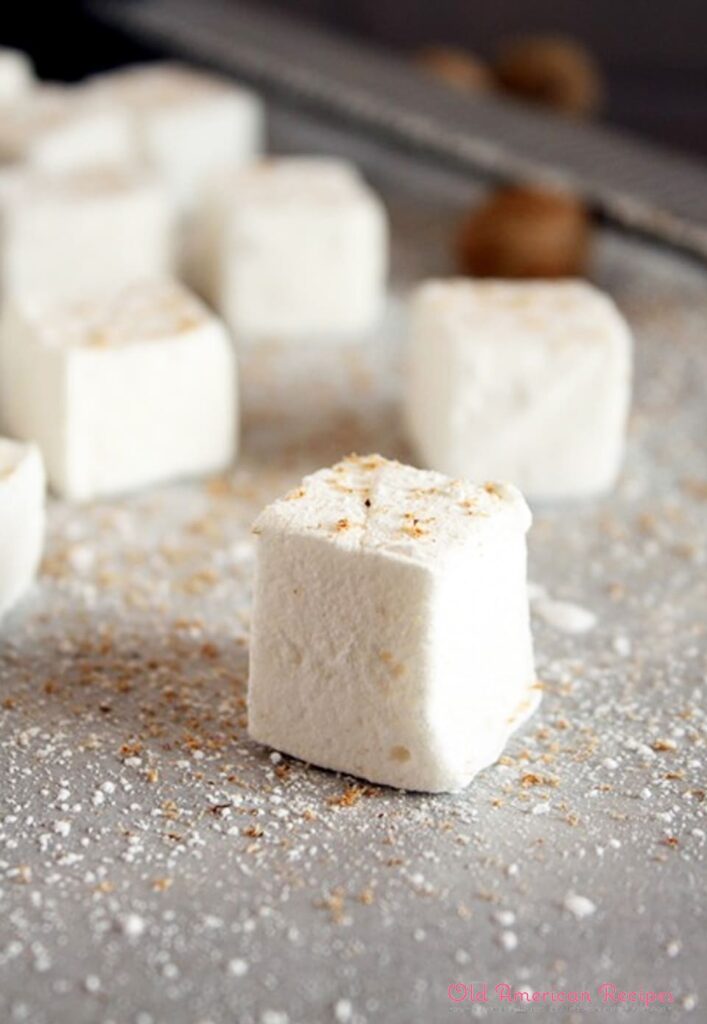 Do any of you guys watch Dexter? Ugh. I know it was on last Sunday, but I just watched it so I NEED to talk about the season finale…
What the heck?! That didn't really resolve anything, well except maybe the Laguerta thing. And there wasn't even a cliff hanger which I hate but also love at the same time (hey, it gives me something to desperately hold onto for a year till the next season starts).
PS – I'm a little worried that this whole thing between Dex and Deb is gonna get weird.. And I think somehow Hannah is going to come back into the picture and the truth about the the drugged water is going to come out (I really don't think it was Hannah…). So yeah, that's my two cents…Anyone else have thoughts/feeling about it??
But moving on to more lighthearted things…Like these deliciously fluffy marshmallows.
And oh yeah, I brought back more eggnog. But really, you can't have too many eggnog flavored things. Am I right?
These little guys are something special. They started off just like regular old plain marshmallows, but then I added a little rum extract and some fresh nutmeg. Wham! Instant eggnog deliciousness.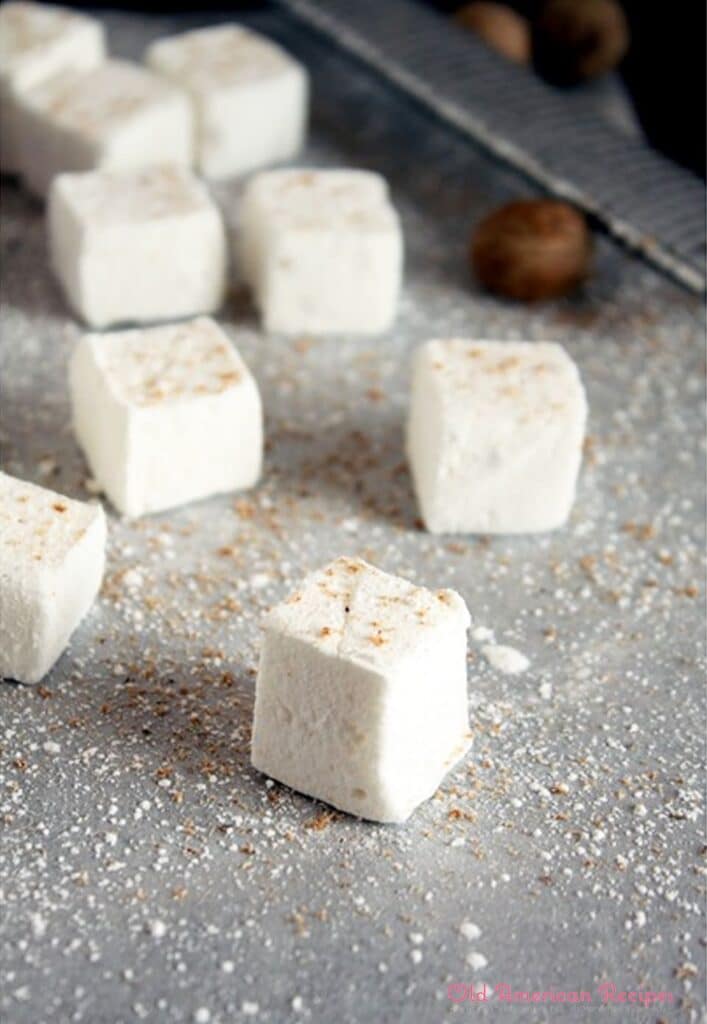 Something about the flavor of these with that fluffy texture just kinda makes me giddy like a kid on Christmas. Its like a little puffy cloud of eggnog.
If you've never had a homemade marshmallow, that needs to change friends. They are something to brag about. They can't even compare to the bagged ones from the store. Not even close.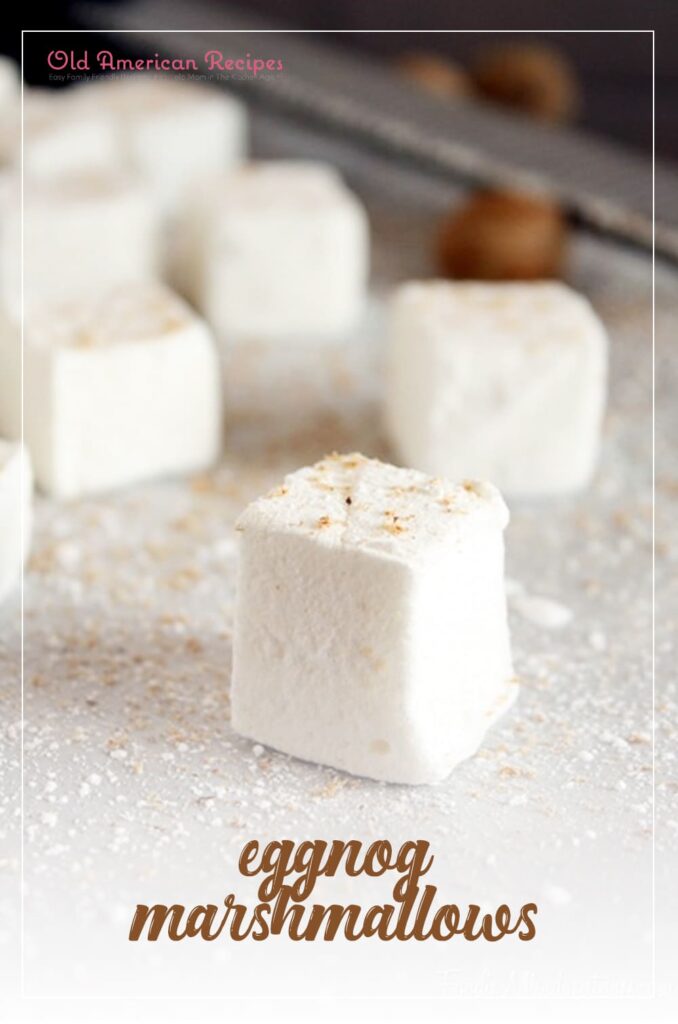 Remember it later
Like this recipe! Pin it to your favorite board NOW!
Pin
Plus I'm pretty sure you need these for your cocoa when you're up late wrapping gifts on Christmas eve..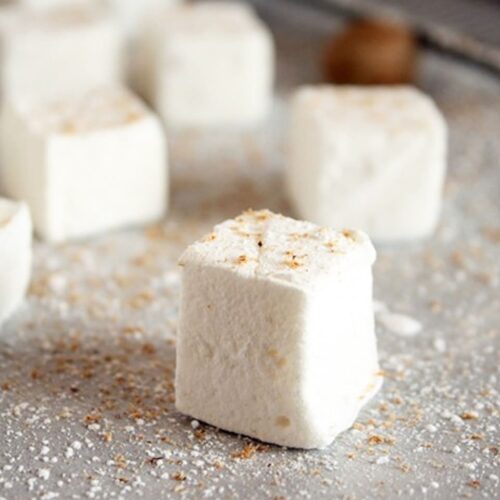 Eggnog Marshmallows
Ingredients  
3

packages unflavored gelatin

1

cup

ice cold water

divided

12

ounces

granulated sugar

approximately 1½ cups

1

cup

light corn syrup

¼

tsp

kosher salt

½

tsp

freshly grated nutmeg

½

tbsp

rum extract

¼

cup

confectioners' sugar

¼

cup

cornstarch

Nonstick spray
Instructions 
Place the gelatin into the bowl of a stand mixer along with ½ cup of the water. Have the whisk attachment standing by.

In a small saucepan combine the remaining ½ cup water, granulated sugar, corn syrup and salt. Place over medium high heat, cover and allow to cook for 3 to 4 minutes. Uncover, clip a candy thermometer onto the side of the pan and continue to cook until the mixture reaches 240 degrees F, approximately 7 to 8 minutes. Once the mixture reaches this temperature, immediately remove from the heat.

Turn the mixer on low speed and, while running, slowly pour the sugar syrup down the side of the bowl into the gelatin mixture. Once you have added all of the syrup, add in nutmeg and increase the speed to high. Continue to whip until the mixture becomes very thick and is lukewarm, approximately 12 to 15 minutes. Add the rum during the last minute of whipping. While the mixture is whipping prepare the pans as follows.

Combine the confectioners' sugar and cornstarch in a small bowl. Lightly spray a 13 by 9-inch metal baking pan with nonstick cooking spray. Add the sugar and cornstarch mixture and move around to completely coat the bottom and sides of the pan. Return the remaining mixture to the bowl for later use.

When ready, pour the mixture into the prepared pan, using a lightly oiled spatula for spreading evenly into the pan. Dust the top with enough of the remaining sugar and cornstarch mixture to lightly cover. Reserve the rest for later. Allow the marshmallows to sit uncovered for at least 4 hours and up to overnight.

Turn the marshmallows out onto a cutting board and cut into 1-inch squares using a pizza wheel dusted with the confectioners' sugar mixture. Once cut, lightly dust all sides of each marshmallow with the remaining mixture, using additional if necessary. Store in an airtight container for up to 3 weeks.
Sharing is caring!