Sharing is caring!
Washing up. Yuck. As much as I love to cook and experiment in the kitchen, I just dread the cleaning up part after. I'm a really lazy cook and will always try to minimise using as much equipment as I can just to save on washing up. You know how some people seem to use every single dish/spoon/pot when they are in the kitchen? I'm not like that, but whenever I make 🍦 , I seem to effortlessly use a bajillion dishes and I end up cleaning and washing up by hand for at least an hour.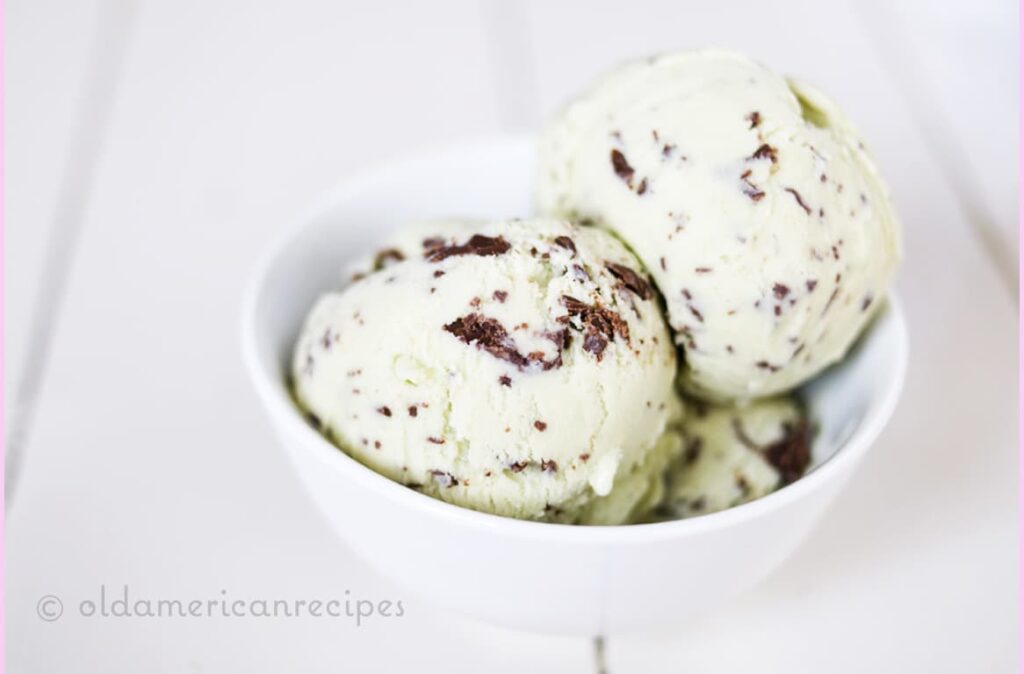 I know some of you are thinking, "doesn't she have a dishwasher?!" I do, but I always prefer to wash by hand especially when I make sweets as there is so much grease from butter and cream that the anally retentive clean freak in me doesn't trust the dishwasher to get the job done.
But after re-reading what I've just written, I sound like such a whiner. I don't mean to put you off making ice cream. I'm sorry. Don't get me wrong, home made ice cream is completely worth all the effort you need to put in.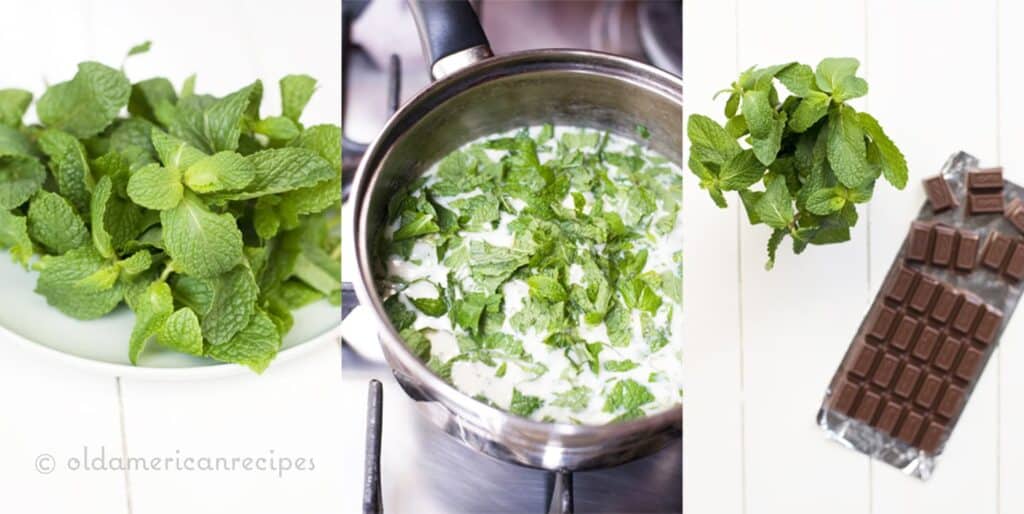 If you have never made ice cream before, this recipe is definitely one to try as your first. I love the flavour of this ice cream; it tastes completely different from what we think is mint chocolate chip ice cream. Before this recipe, I always thought that mint chocolate was that pepperminty lurid green stuff that I had a kid, and it is, but this particular version is totally different! It actually tastes fresh! Steeping real mint leaves into the custard gives it a wonderful flavour and taste dimension that I can't really describe. It's delicious!
Making the "chocolate chips" for this ice cream is easy too. All you have to do is scribble a bit of melted chocolate over the ice cream, let it set, then break it up by smooshing it around with a spoon. Simple! I also adore the colour of this ice cream. It is a very light subtle green, but if you want it to be more brightly coloured, thre is no harm in adding some food colouring.
This recipe is definitely worth all the hideous washing up. I'd be more than happy to clean up for a few hours just for a batch of this ice creamy goodness. It's really fantastic. You must try it.
P.S. Happy Easter everyone 🙂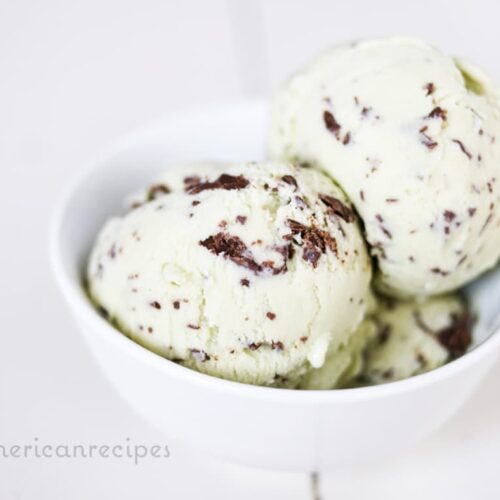 Mint Chocolate Chip Ice Cream
See how to make this easy mint chocolate chip ice cream. This no churn ice cream can be made without an ice cream machine. It's a simple and delicious dessert recipe.
Ingredients  
1

cup

250 ml milk

¾

cup

150 g sugar

2

cups

500 ml heavy cream

pinch

of salt

3

cups

packed

120 gr fresh mint leaves

5

large egg yolks

green food colouring

optional

Chocolate chips

125

g

dark chocolate

chopped
Instructions 
In a medium saucepan, heat the milk, sugar, 1 cup (250 ml) heavy cream, salt, and mint.

Once the mixture is hot and steaming, remove from heat, cover and let stand for an hour to infuse.

Remove the mint with a strainer, then press down with a spatula firmly to extract as much mint flavour and colour as possible. (You can also use well-washed hands to do it as well, making sure the mixture isn't too hot to safely handle). Squeeze every last drop! Once the flavour is squeezed out, throw out the mint.

Pour the remaining heavy cream into a large bowl and set a strainer over the top.

Rewarm the infused milk. In a separate bowl, whisk together the egg yolks, then slowly pour some of the warm mint mixture into the yolks, whisking constantly, then scrape the warmed yolks back into the saucepan.

Cook the custard, stirring constantly with a heatproof spatula, until the mixture thickens and coats the spatula. If using a thermometer, it should read around 77ºC.

Immediately strain the mixture into the cream, then stir the mixture over an ice bath until cool.

Refrigerate the mixture thoroughly, preferably overnight. Add food colouring if you wish. Freeze it in your ice cream maker according to the manufacturer's instructions.

While the mixture is freezing, melt the chocolate in a small bowl over a pot of simmering water, or in a microwave oven on low power, stirring until smooth. Place a storage container in the freezer.

When the ice cream in the machine is ready, scribble the chocolate into a container. Spoon some ice cream into the container, allow the chocolate to set (about 20 seconds), then using a big metal spoon, mix the chocolate into the ice cream, breaking it up as you mix. Repeat with the remaining chocolate and ice cream. Cover and freeze until firm.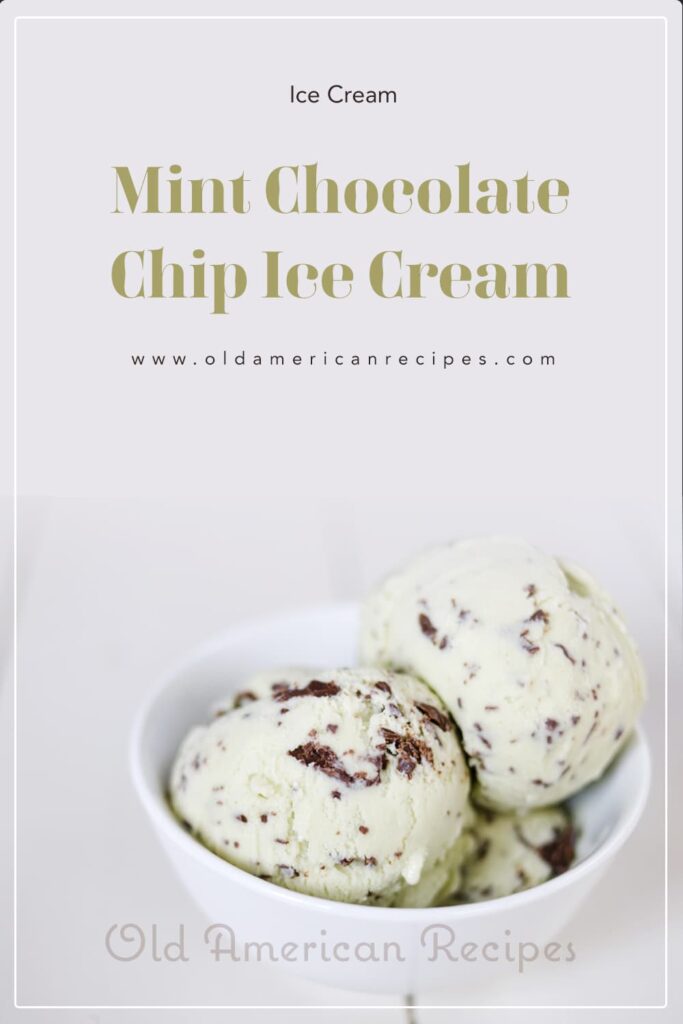 Sharing is caring!