Sharing is caring!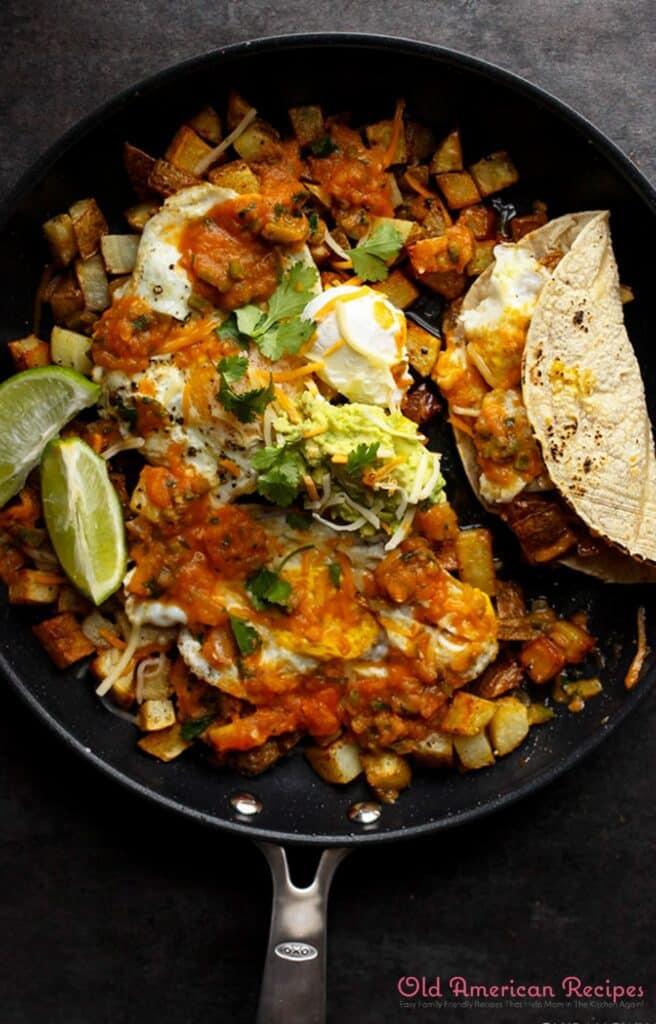 You guys, there is breakfast hash and then there is Huevos Rancheros Breakfast Hash, which takes the common hash to a whole new level. While crispy, golden fried potato bits are heaven by themselves, top that mess with runny eggs, guac, and ridiculously tasty ranchero sauce and you will never want to eat breakfast another way again.
But I certainly won't judge if you decide to gobble up half of the fried potatoes while the ranchero sauce is simmering away. Good grief, those are magic.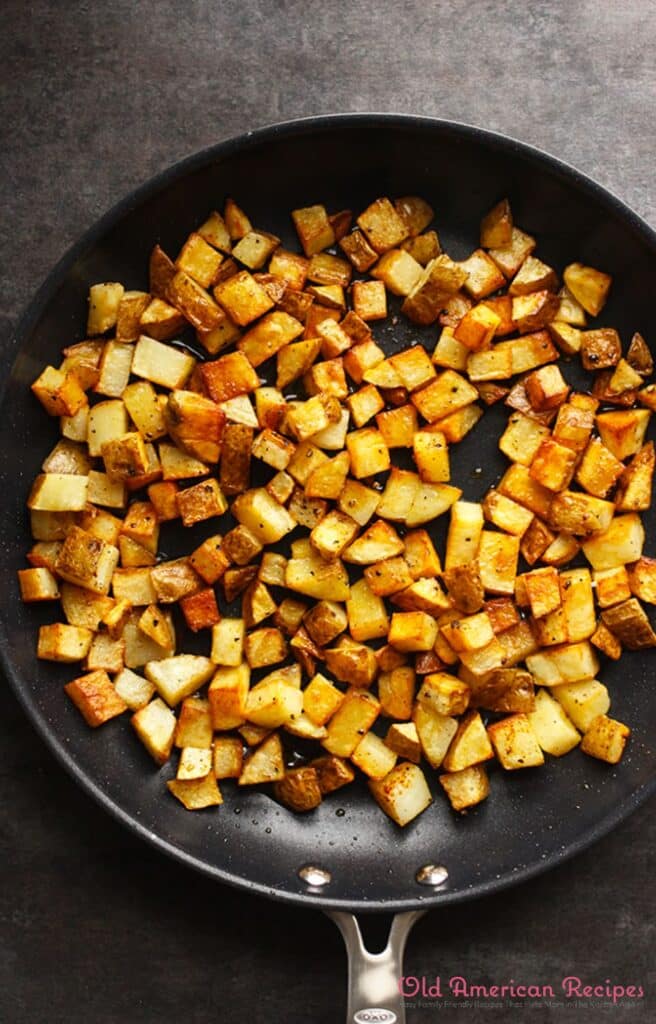 I ate huevos rancheros for the first time at a kitschy diner in LA (close to another of my favorite diners, House of Pies, and not solely because it introduced me to Strawberry Rhubarb Pie). It was after a concert and we were all ravenous. The boy all of us had  crush on happened to come to said diner and ordered the most magnificent plate of huevos rancheros that elevated him, pretty much immediately, to Super Crush.
Remember it later
Like this recipe! Pin it to your favorite board NOW!
Pin
And then he let me share that magnificent plate of huevos rancheros.
Obviously, ranchero sauce became my new love language.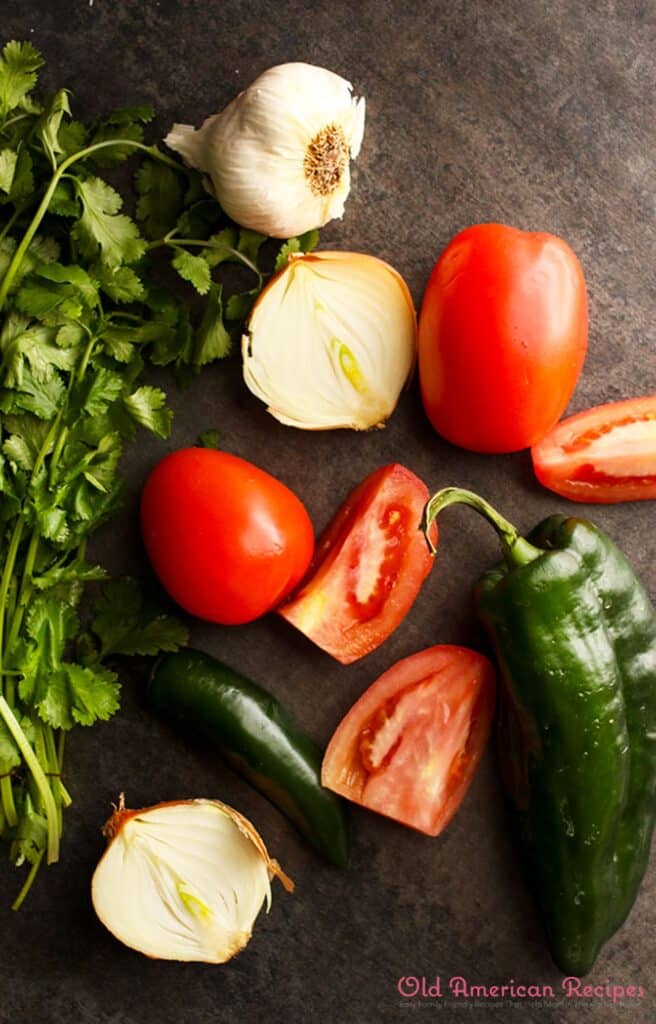 While the crush faded, my love for ranchero sauce remained deep and abiding. It's what I order when I'm feeling nostalgic, or super hungry, or happy. That is to say, I'm always game.
It always seems miraculous when a few basic ingredients become something so tasty you wonder why you ever eat anything else. I mean, how on earth can a few tomatoes and a handful of peppers create something this amazing?
I don't know and I don't fight it.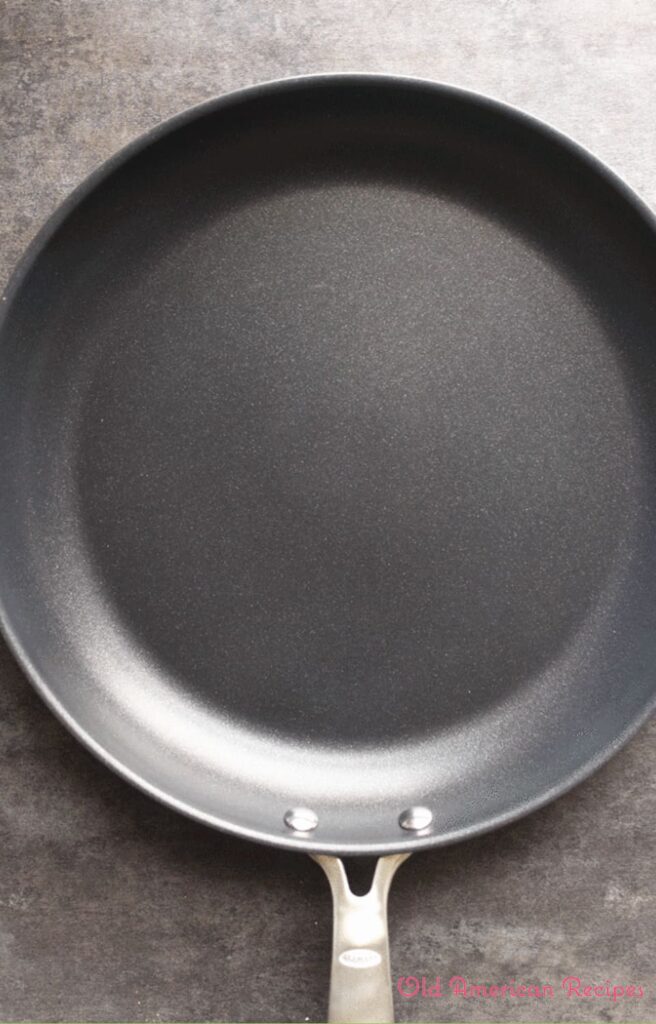 I love huevos rancheros in any form but adding this hearty breakfast hash to the mix is no joke. It's all the good flavors and textures in one delightful pan.
P.S. I got this fabulous Non-Stick Pro 12-Inch Fry Pan from the good folks at Oxo and fell in love the second I got my grubby little paws on it. For one thing, it's non-stick (I know there is much contention over non-stick pans but for me it's a total win, especially since this pan is PFOA-3 free). And another, it is made out of super solid aluminum so food cooks beautifully and evenly (win, win). Also, I didn't think a 12-inch skillet would make much difference over the 10-inch skillet that I love and use on the regular, but it does.
In the words of Michael Scott's conflict resolution handbook, that's a win, win, win situation.
P.P.S. Oxo sent me this pan for free (thanks!) but I truly do love it and plan on using it lots and lots!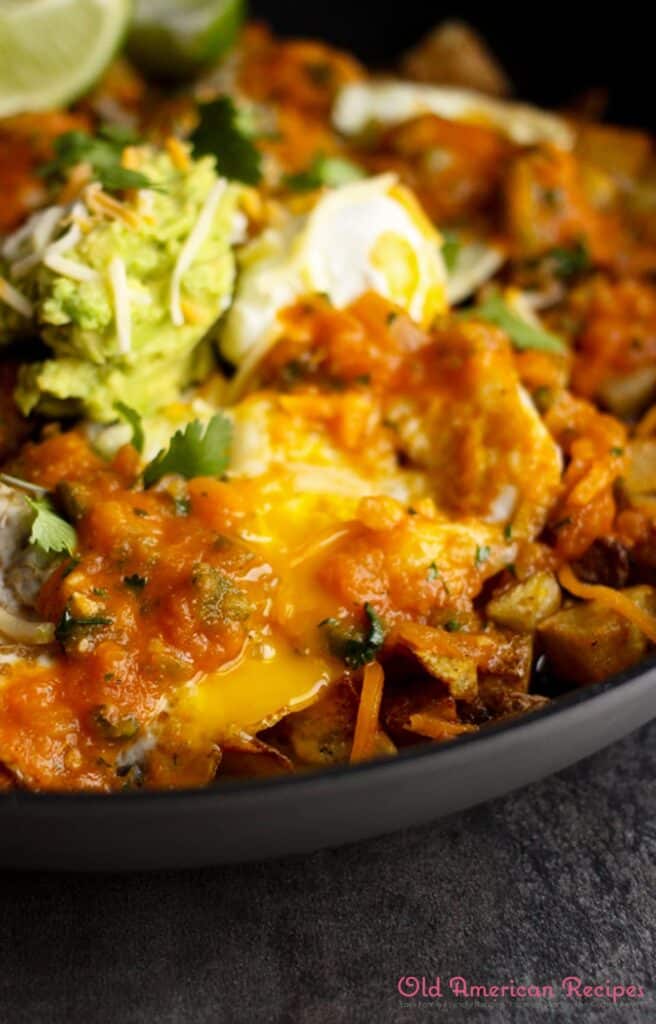 But back to huevos rancheros. It is imperative that your eggs are slightly runny. Because when that golden yolk tumbles out over those crispy poatoes and mixes with that oh-so-good ranchero sauce, you will experience pure joy.
I mean, if runny eggs are not your style, okay, I get it. But please try them runny for this dish, just this once.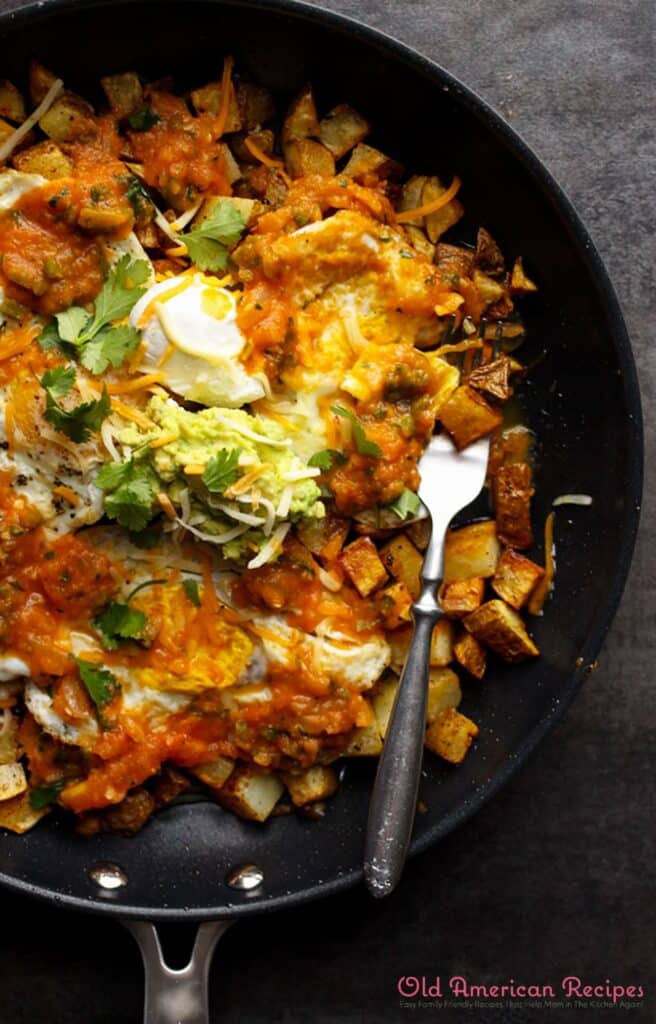 And really, don't be skimpy with the avocado and sour cream.
You don't want to be that person.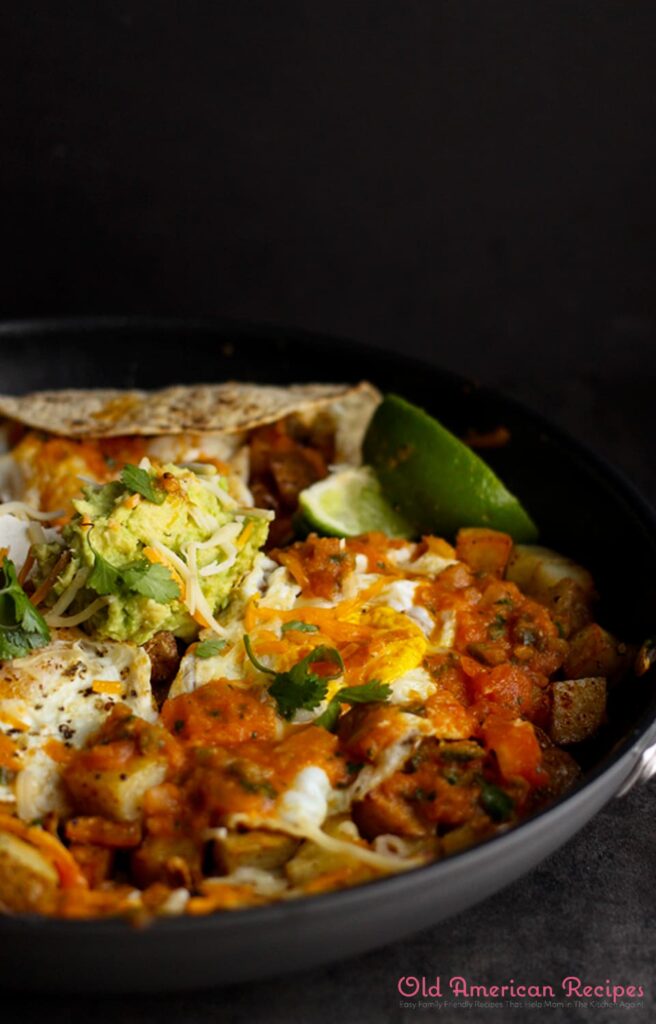 While I toyed with adding chorizo and black beans, I decided to keep it simple and it was the right decision. This is one hearty hash, especially if you wrap all that goodness in a warm corn tortilla like I did. Warren ate his sans tortilla and said it was still amazing. In fact, he all but drowned his hash with ranchero sauce.
I won't lie, there are a few steps to making this but they are all simple. I also have to say that we made this Monday night during the half hour of light that exists in Michigan after I get home from work. So, lots of steps but it's quick work. Our big shortcut is cubing the potatoes and microwaving them on the potato setting before frying them. It cuts down the cooking time a ton. Also, it helps if you make the ranchero sauce while the potatoes are browning.
My final word is this: I hate leftovers. With a mighty passion. But I actually wish that we had leftovers of this Huevos Rancheros Breakfast Hash because I would inhale them. So, there's that.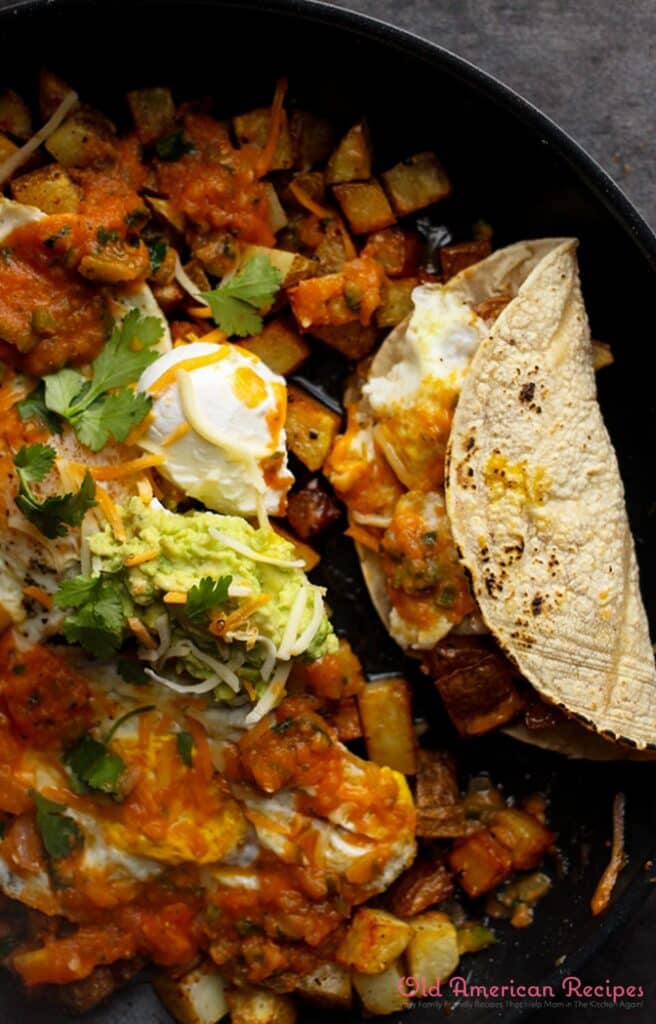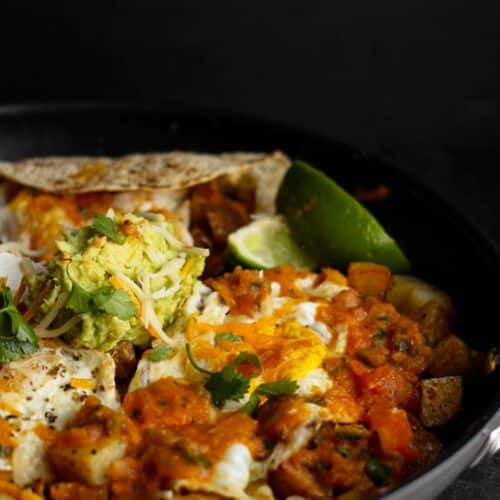 Huevos rancheros breakfast hash
This easy and hearty Huevos Rancheros Breakfast Hash will keep you full all morning!
Ingredients  
For the Potato Hash
3

large yellow potatoes

diced in ½-inch cubes, skin on

2

tablespoons

olive oil

½

teaspoon

chili powder

salt and pepper to taste
For the Ranchero Sauce
3

Roma tomatoes

peeled and quartered

1

tablespoons

olive oil

1

small yellow onion

diced

3

garlic cloves

minced

1

jalapeno

seeded and diced

½

poblano pepper

seeded and diced

½

cup

chicken stock

½

teaspoon

chili powder

salt and pepper to taste

1-2

tablespoons

fresh cilantro

To Assemble the Hash

fried potatoes

3-4

fried eggs

1

avocado

mashed with salt and pepper

sour cream

shredded pepper jack cheese

ranchero sauce

3-4

corn tortillas

quartered lime
Instructions 
For the Potato Hash
Put diced potatoes in a glass, microwave-safe bowl and heat on potato setting. When potatoes are done (careful, the bowl will be super hot!), take the bowl out and set aside. Heat olive oil in a large skillet over medium-high heat. When oil begins to shimmer, add potatoes. Sprinkle with chili powder, salt, and pepper and cook until golden brown, about 10-15 minutes.

Make sure to spread potatoes in a basically even layer in the pan so they get nice and crispy. I let them sit on each side for a minute or two then flip them until they are golden. While the potatoes cook, get the ranchero sauce ready to go.
For the Ranchero Sauce
Use a vegetable peeler to peel the tomatoes. In a medium sauce pan, heat olive oil and add tomatoes, onion, garlic, jalapeno, and poblano. Cook until onion and pepper mixture softens, about five minutes. Add chicken stock, chili powder, salt, and pepper. Simmer for 10 minutes then turn off the heat. Add cilantro and blend ranchero sauce until nice and smooth (I used an immersion blender, but a regular blender will work just fine).

Layer the fried potatoes with fried eggs (leave runny yolks for an even tastier experience), avocado, and sour cream. Drizzle with ranchero sauce and serve with warm corn tortillas and lime wedges. This is a giant hash and I think it could easily feed three adults, if you serve it with a stack of tortillas and a side of black beans. That being said, two hungry adults ate nearly the whole pan, though Warren has a potato appetite equivalent to three grown people's so you be the judge…
Sharing is caring!