Sharing is caring!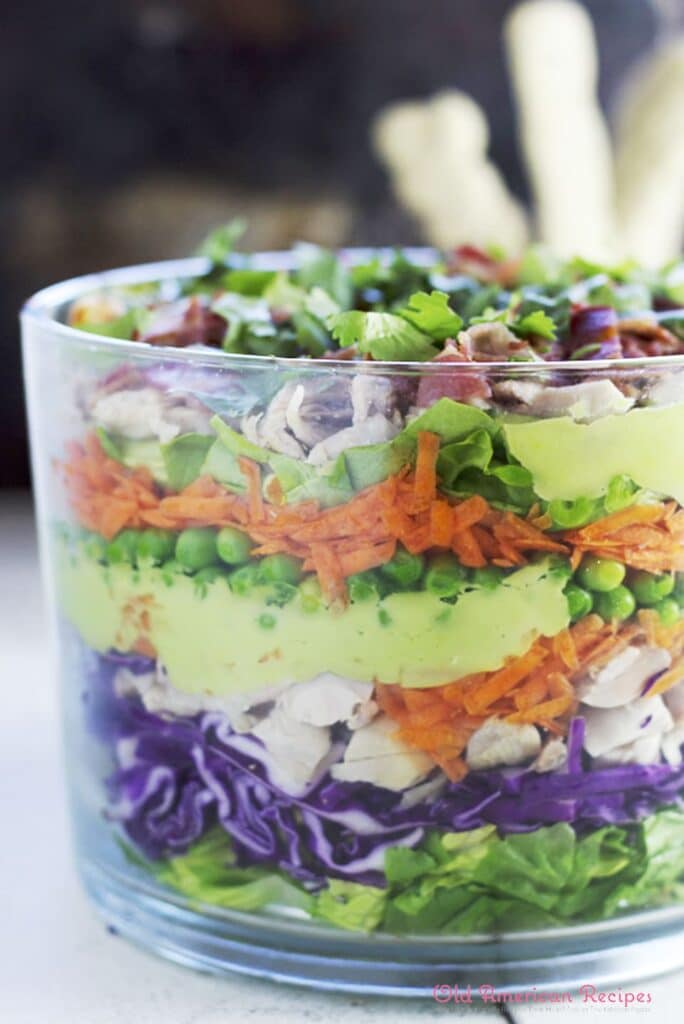 I was pretty sure when Mark and I got married that we just would not fight. Like…ever.
It didn't take long for me to realize that was a pipe dream. We get along wonderfully, but we definitely have our disagreements. One of our first fights was over… ready for this? Whether or not Mark liked what I had made for dinner. Not that he didn't like it. But that he did.Well, those were the words exchanged. It was really about the fact that at every meal I hounded him to see if he liked what I made. And no, hounded is not an overstatement.
He basically could have cared less about food. If it was edible and he was full at the end of the meal he liked it. He would answer my question regarding if he liked it with a slight grunt of a "yeah" or "it's ok." That  was it. I 
needed more. 
I truly had no idea if he enjoyed the food. Or not.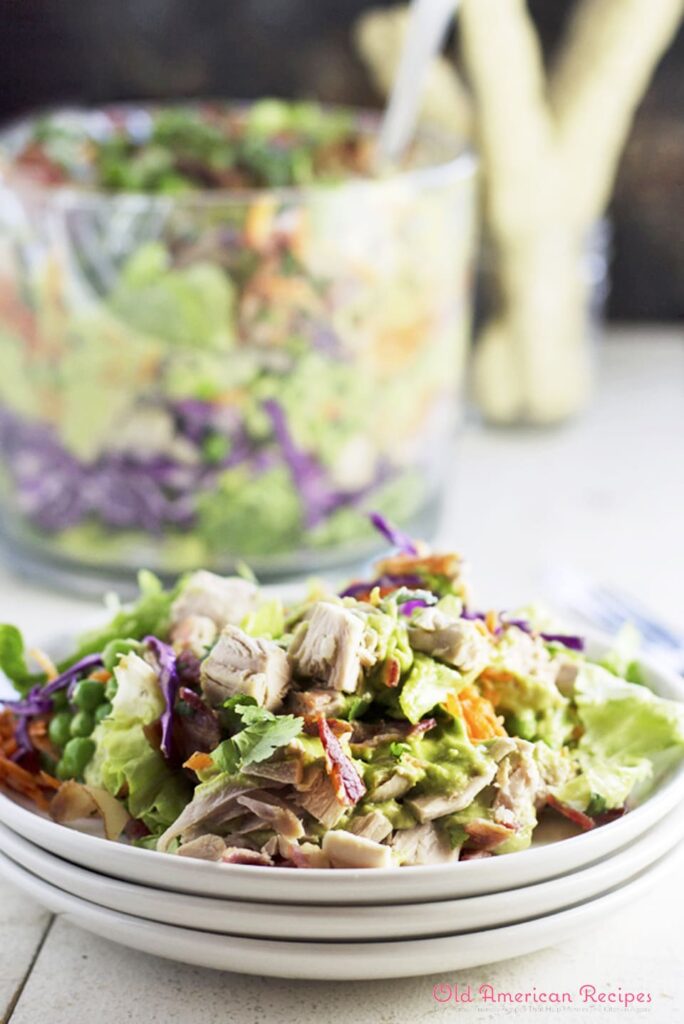 On the fateful night of the fight, he sighed at dinner, or something. I asked "you don't like it?" with extreme worry that makes me laugh to think back on it. "I DO! I LIKE IT!" He yelled. I cried. He apologized. I forgave. I apologized for hounding him so… back to blissful newlywed life. But, oh the *shock* of realizing that when you put two imperfect, vastly different people together you have imperfect situations.
Fast forward a few years and we have a number system that helps prevent this. He is able to tell me what he thinks of a dish in a way he can, that I understand. He rates it on a scale of 1-10.
5 or higher means he won't groan if I make it again.
6-9 is various levels of enjoyment.
1-4 is various levels of gastronomic torture.
10 has yet to be reached… but Lord Willing we still have years of happy marriage. I might get there eventually.
Remember it later
Like this recipe! Pin it to your favorite board NOW!
Pin
Last summer when I was testing recipes for The Veggie Book the faults in this system really became clear. I wanted to know what he thought of this pea dish, or this cabbage dish, etcetera. A general 1 – 10 scale meant that peas were being rated on the same scale as beef. Fair? I think not.
In addition to the 1 – 10 general food scale there are specific variations. The more disliked the food generally is, the more specific the scales get.
Like the Herbed Cabbage soup I have in The Veggie Book. Mark does not like soup. Mark does not like cabbage. The soup was doomed to be a failure… yet, it (surprisingly) got a 6 for food. That is pretty amazing for a cabbage soup. It further got a 7 for soup and an 8 for a cabbage dish. Meaning it was definitely successful.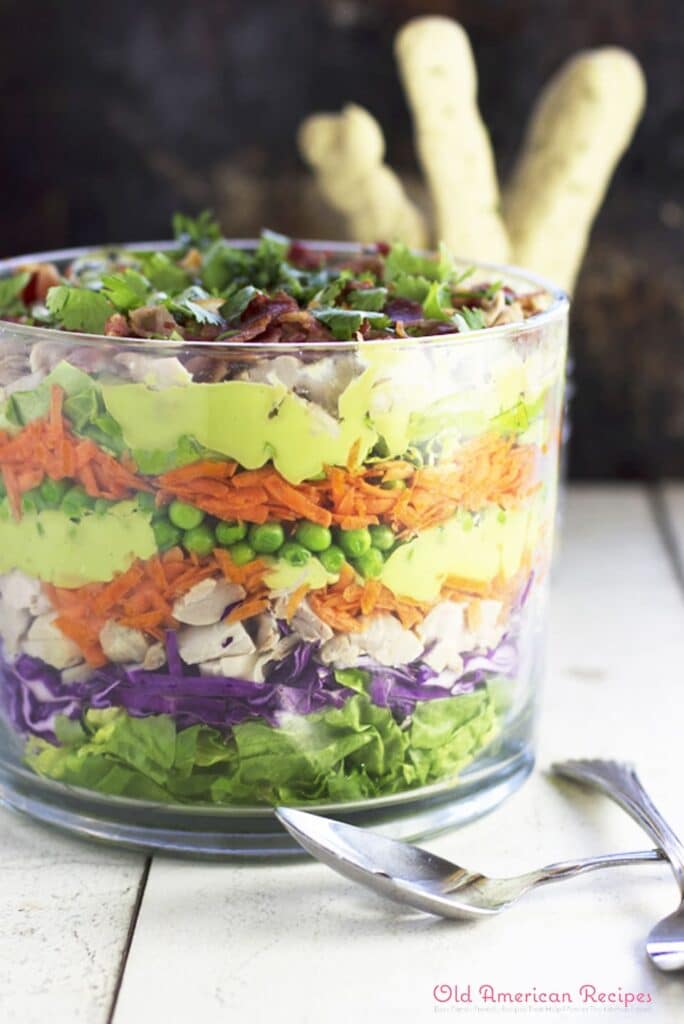 If you think this system is complicated you should read how we name our children. We just need systems. We are trying to communicate as an artist and a engineer. We are both nerdy, so numbers and systems work for both of us.
I have only reached 9 a few times since we finalized this system a year ago. This one one of those times. Granted, it was a 9 for a salad. But, that is fine. 9 for salad, 8 for a vegetable rich dish, 7 for food in general. It might have been the beef I sprinkled on top… but that is still one impressive salad.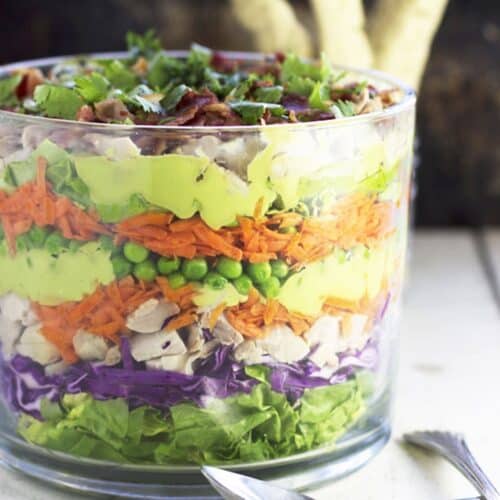 Layered Salad
Ingredients  
2

recipes avocado cream

1

teaspoon

garlic powder

1

teaspoon

onion powder

½

teaspoon

salt

1-2

cups

leftover chicken

shredded or chopped

¼

head purple cabbage

thinly sliced

2

heads of romaine

or a few cups of very mild greens of choice, I used half romaine half Boston

1½

cups

thawed peas

4

large or 6 medium carrots

shredded

6

slices

of beef

cooked and crumbled (use sugar free for Whole30 or GAPS)

chopped fresh cilantro or chives

optional
Instructions 
Mix the avocado cream with the spices and salt. Set aside. If the chicken is not very flavorful salt and add similar seasonings. You can even add some taco seasoning.

Layer the ingredients in the following manner:

half greens

cabbage

half of the chicken

half of the carrots

half of the avocado cream

the peas

the other half carrots

other half of the greens

other half of the chicken

beef

cilantro leaves

You can layer them in other ways of course, but that is a good mix of colors and keeping everything the lettuce and beef crisp.

This is best eaten within a few days.
Sharing is caring!