Sharing is caring!
This recipe came up on my Pinterest feed and since I'm always looking for stuff that fits my new way of cooking for my husband's diabetes (I've also stopped eating nearly all sugar and carb-y stuff) I gave it a try. For the first go it was surprisingly tasty, and even though my husband confessed that he was a little afraid at first–because, you know, "lentil soup"–he was happy to eat leftovers.
Changes I made include using more chicken broth than in the original recipe, adding a bit of water (not in the original recipe), using more garam masala than in the original recipe, and not using the jarred roasted red peppers. The peppers just seemed weird to me. I also used coarsely chopped baby kale because that's what my store had, so simmering the stew after adding it ended up being too much, and it lost it's gorgeous bright green color. Next time (if I use the baby kale again) I'll add it after turning off the heat and just let the heat of the stew wilt it a bit. I guess I also used double the amount of kale than in the original recipe. Because I love kale. Oh, and I added garlic. Because I love garlic.
There is a note in the original recipe that you can try adding curry instead of the garam masala. I think that would also be really good, and you could probably add a variety of different herb combinations for nice variations.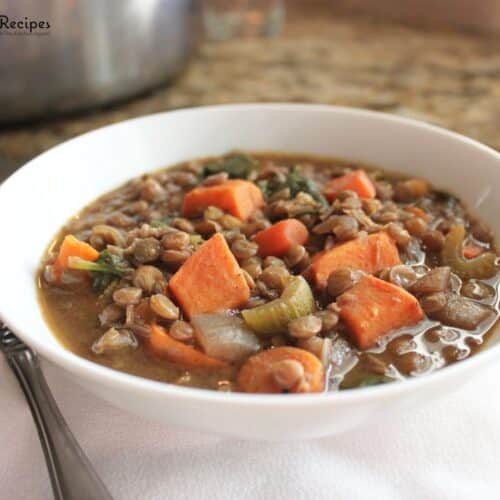 Lentil, Sweet Potato, and Kale Stew
Ingredients  
2

tablespoons

olive oil

1

small onion

diced

1

rib celery

sliced

1

carrot

diced

2

cloves

garlic

minced

2-3

teaspoons

garam masala

1

cup

green lentils

rinsed well

6

cups

chicken or vegetable stock

1

cup

water

if needed

1

medium sweet potato

peeled and 1/2-in diced

2

cups

chopped baby kale

salt and freshly ground pepper
Instructions 
Heat the olive oil in a medium sauce pan over medium to medium-low heat. Add the onion, celery, carrot, and garlic. Cook, stirring often, until the vegetables start to brown a bit, 8-10 minutes. Add the garam masala and cook for another 3-5 minutes.

Add the lentils and chicken stock, and bring to a boil. Cover, reduce the heat to maintain a simmer, and cook for 10 minutes, stirring occasionally. Add the sweet potato and simmer an additional 10-15 minutes, or until the lentils and sweet potato are tender. ***This is where you may or may not need the water. Add it in if the stew looks too thick; if there isn't enough liquid the lentils won't cook properly***

Stir in the baby kale, remove the pot from the heat, and allow the kale to wilt for about 10 minutes. (If you are using mature kale, simmer for 5-7 minutes.) Season with salt and pepper.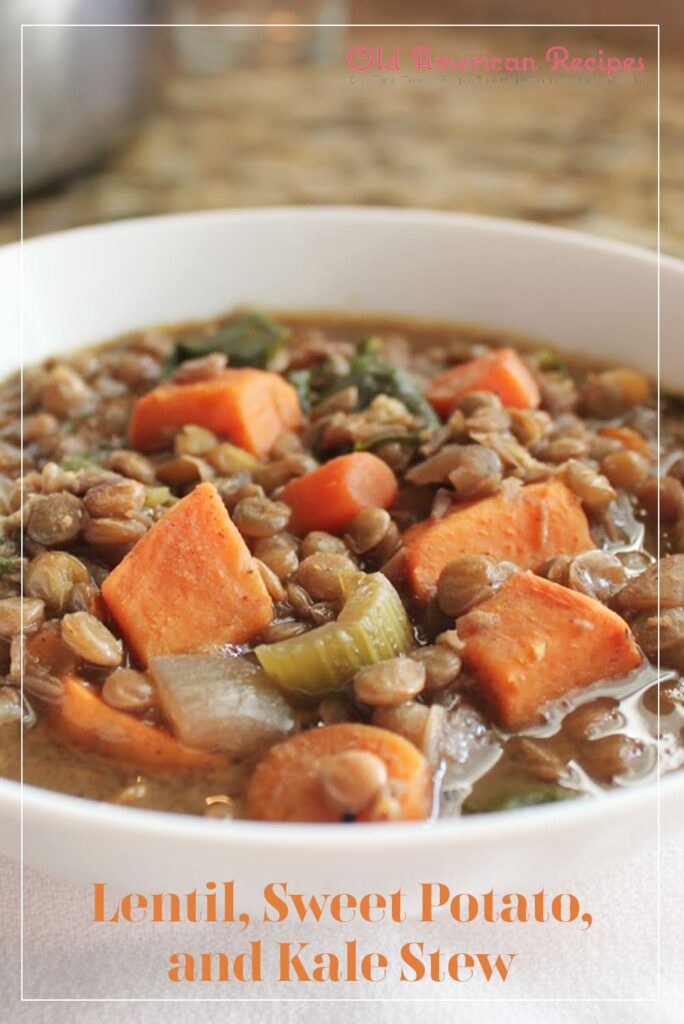 Sharing is caring!