Sharing is caring!
These thick and fudgy brownies are packed full of your favorite candy bars. They are a great way to use up leftover Halloween candy – or just a killer brownie no one will be able to resist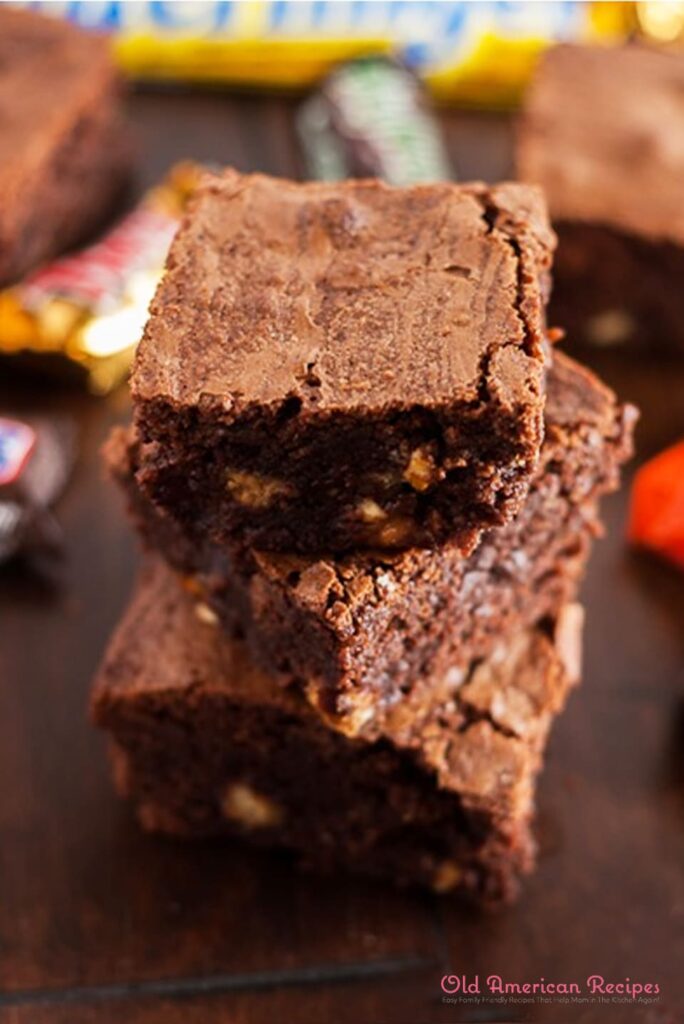 When October rolls around and I start seeing Halloween candy hit the shelves I instantly want to buy some – thinking I'll get ahead of the game and have it ready for trick-or-treaters at the end of the month. What actually happens: I buy the bag of candy then somehow it slowly dwindles in size to the point where I have to go buy more before the 31st. Is it just me or are mini size candy bars even more addicting than full size ones?
If you've ever worked in an office you probably know the usual post-Halloween candy surge. Everyone brings in their leftover candy (to get it out of their house) and somehow on the office treat counter there is a gigantic overflowing bowl of candy. But no one really wants to eat it since they are kind of sick of eating candy and  so it sits..until almost thanksgiving.
These candy bar brownies are no joke. I came up with the idea for them way back in March – then proceeded to make them numerous times, but always digging in to them before I snapped pictures (oops?). I made them for my birthday, to celebrate after my triathlon and I even brought them as my dish to the Big Traveling Potluck back in April (they cut up the leftovers and we used them for ice cream toppings…omg that was delicious). So basically I'm saying that these brownies are killer. They were SO worth making again and again. At least this time I didn't look like a crazy person buying armfuls of candy bars at the grocery store!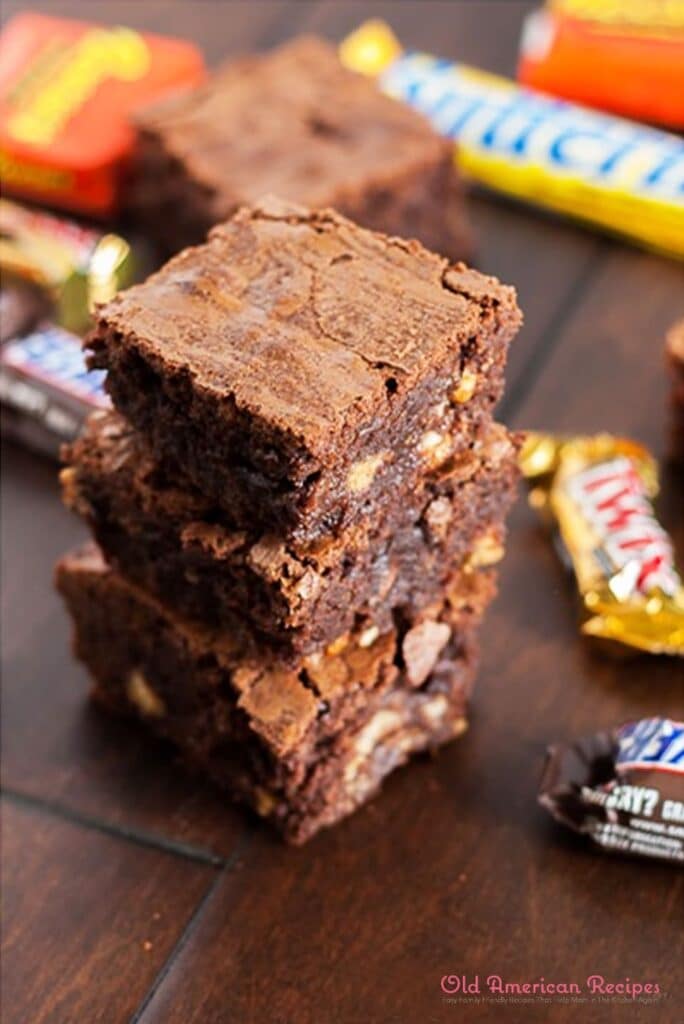 A few note on the recipe: My favorite way to make brownies is to use half regular cocoa powder and half Dutch process cocoa, but I realize not everyone has a 1lb bag of Dutch processed cocoa hanging out in their pantry (I buy this one from Amazon and use it all Winter long for baking). So I have a couple of other options for you – you can swap out all the cocoa powder OR just the Dutch processed cocoa for some Hershey's Special Dark. I can always find Hershey's Special Dark at my local Wal-Mart and some local grocery chains carry it too. If you don't have Dutch processed cocoa or Hershey's Special Dark, you can use regular cocoa powder, but just know that your brownies will not be as decadent and chocolatey – they will still be delicious of course!
Remember it later
Like this recipe! Pin it to your favorite board NOW!
Pin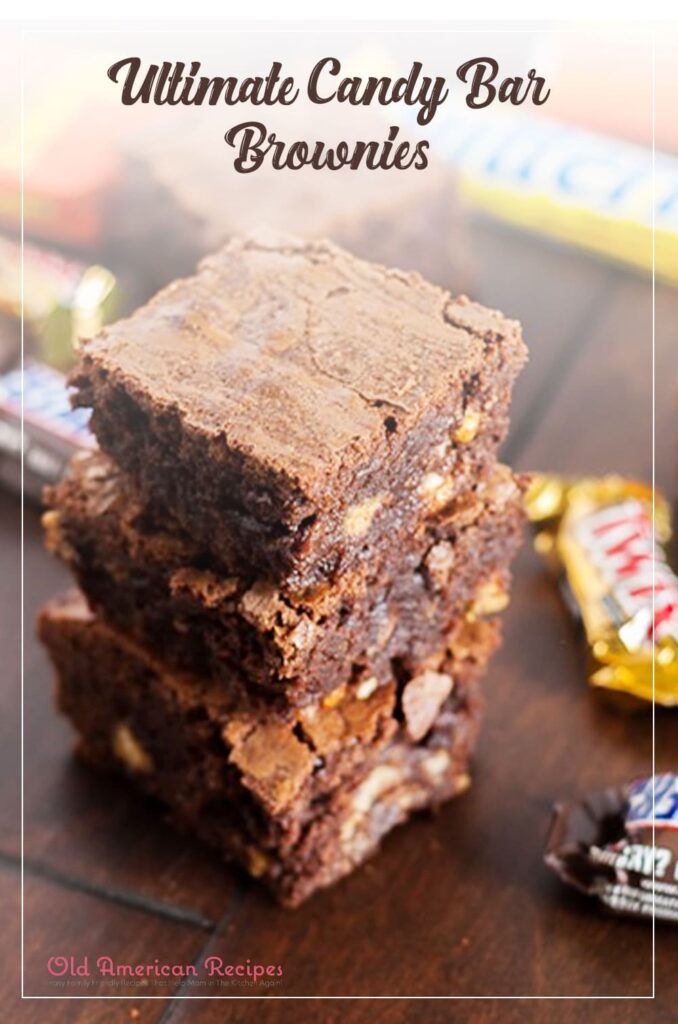 Also if you don't happen to have all of these candy bars, feel free to swap them out for others that will suit your tastes. Pretty much any chocolate based bar will taste great in these. You can also use a full (or king) size candy bar in place of any or all of these – it just takes a bit more chopping.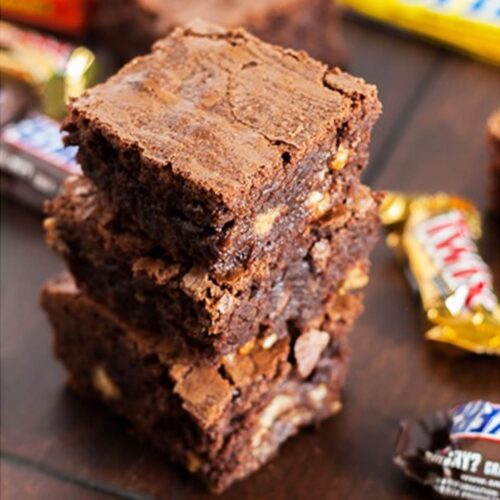 Ultimate Candy Bar Brownies
These thick and fudgy brownies are packed full of your favorite candy bars. They are a great way to use up leftover Halloween candy – or just a killer brownie no one will be able to resist
Ingredients  
1½

cups

butter

3 sticks

3

cups

sugar

5

eggs

2

tsp

vanilla

½

cup

cocoa powder

½

cup

Dutch processed cocoa powder

1½

cups

flour

1

tsp

baking powder

½

tsp

salt

8

mini Butterfinger bars

6

mini Snickers bars

8

mini Twix Bars

6

mini MilkyWay bars

8

mini Reeses peanut butter cups
Instructions 
Preheat oven to 350 F°. Spray a 9×13 inch baking dish with cooking spray.

In a large saucepan, melt the butter over medium heat. Remove from heat, and stir in sugar, eggs and vanilla until thoroughly combined. Mix in cocoa powder, flour, baking powder and salt until well blended. Pour half of the batter into the prepared pan.

Unwrap candy bars and chop into small bite size pieces. Sprinkle chopped candy over the brownie batter in the baking dish, making sure to evenly distribute different kinds of candy over all areas of the pan. Pour remaining half of batter over candy pieces and spread with a spatula to smooth out top.

Bake at 350 for 45-55 minutes. Let cool before slicing and serving.
Sharing is caring!