Sharing is caring!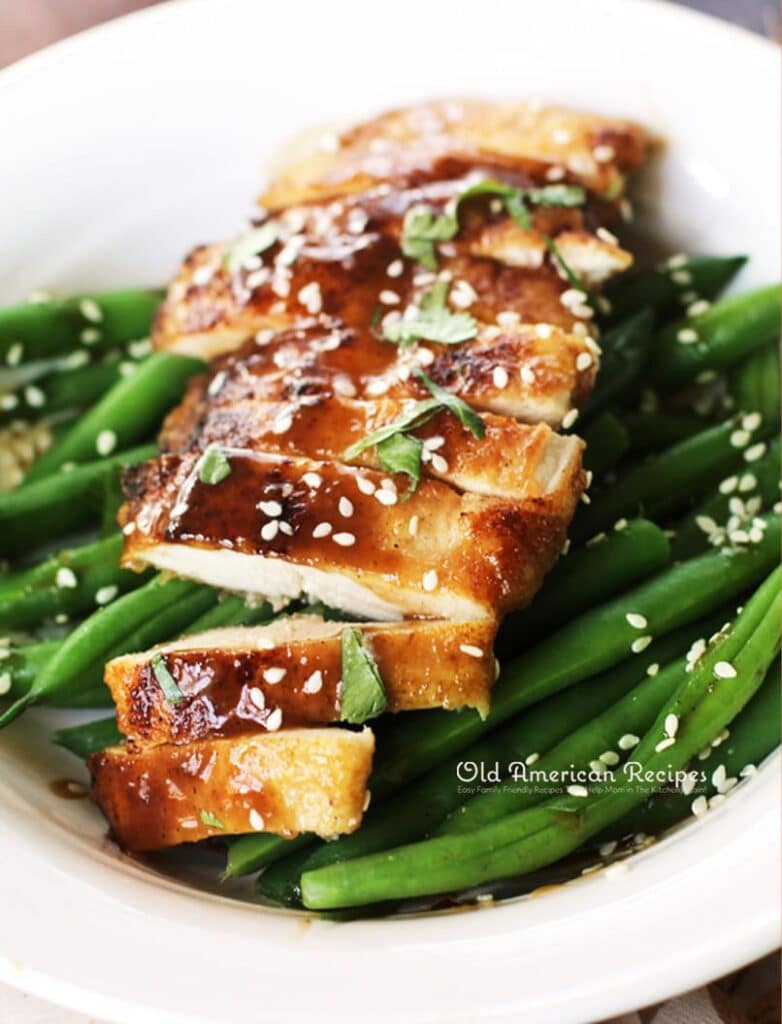 This is my favorite cooking method for chicken breast. I was a little afraid to make that claim, but it really is! Sometimes I want other dishes that need chicken breast, but if I simply want to make a chicken breast that shines– it is this more often than not.
First, the chicken is well seasoned. I usually am all about fresh- but powdered garlic and onion work far better in this application. The fresh ones would be too wet and bulky. Flavoring beyond garlic and onion depends on what flavor profile I am going with. This particular version is Asian themed so I also did dried ginger and Chinese five spice powder. I love that combo of flavors because it has a unique blend of sweet and savory.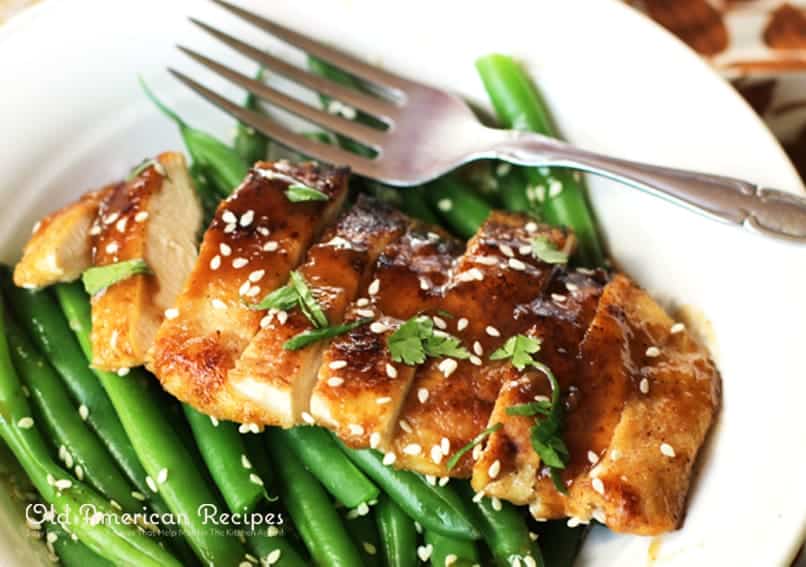 The seasoned chicken is then dredged in arrowroot powder or tapioca starch. That is the most important step as the starch is how the magic happens. But a bit more on that in a second.
A quick sear in a hot pan lets the starch do it's thing- brown beautifully. It makes a beautiful crispy crust on the chicken. Admire the crust for a bit, because it is about to become soggy. But not in a soggy crust sort of way. A luscious sticky coating that let's all the flavor of a yummy sauce – in this case chicken stock and coconut aminos- cling to the chicken.
In the end you have a slightly sticky coating (like in my sticky shrimp) and a delectable sauce.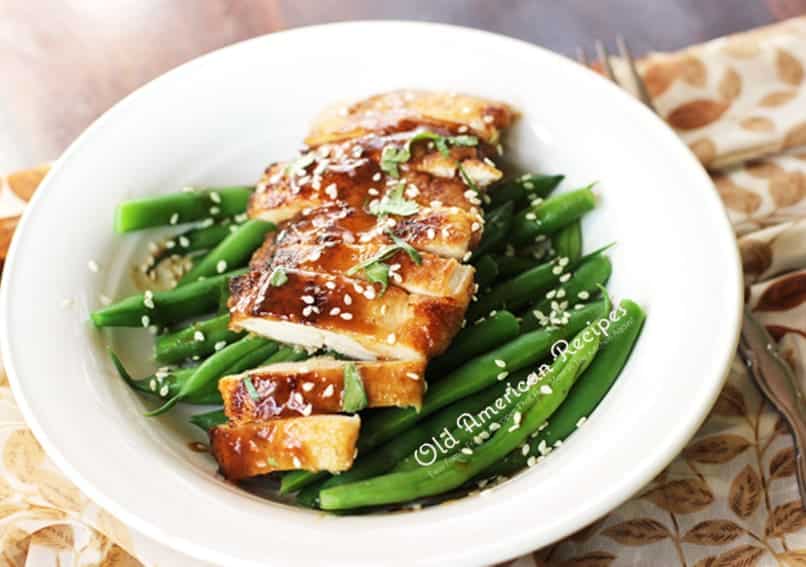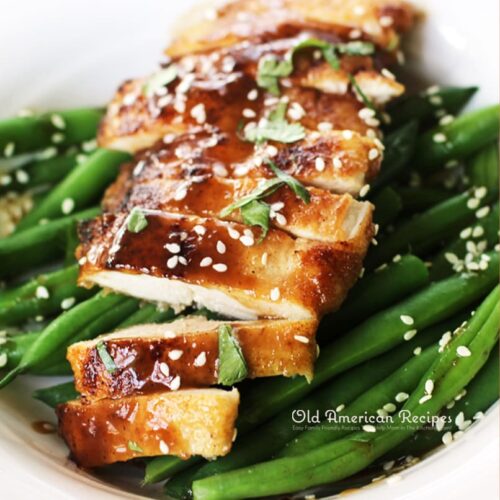 Spiced Ginger Chicken
Ginger spiced chicken breast with a slightly sticky coating.
Ingredients  
2

tablespoons

coconut oil

3

chicken breasts

sliced in half lengthwise (so you have two thin fillets from each breast)

1

teaspoon

salt

1

teaspoon

ginger powder

1

teaspoon

onion powder

1

teaspoon

garlic powder

½

teaspoon

chinese five spice powder

¼

cup+ arrowroot powder or tapioca starch

3

tablespoons

coconut aminos

1

tablespoon

rice vinegar

or white balsamic for grain free

1

cup

chicken stock

the more gelatinous the better
Instructions 
Heat the coconut oil in a 16 inch skillet over medium heat.

Mix together the seasonings, sprinkle on the chicken.

Put ¼ cup arrowroot or tapioca starch on a plate, spread it out. Dredge the chicken in the arrowroot, adding more to the plate if necessary. Shake off excess starch.

Sear the chicken well on each side, working in two batches. It takes 2-3 minutes per side.

Remove from the pan and set aside.

Add the chicken stock, coconut aminos, and rice vinegar to the skillet. Turn to high heat and start to boil it. Boil for 3-4 minutes until the bubbles start to appear more hefty, it should reduce by about half.

Reduce the heat to low. Once the sauce has stopped boiling and is either standing still or just barely bubbling on the sides, add the chicken. Cover and cook for about 5 minutes, flip the chicken and cook for a 3-5 minutes more until it is cooked through. Remove the chicken, if the sauce is not thick enough bring it to a boil and boil for a few seconds to a minute. The sauce should just be thick enough to coat the back of a spoon, than have a trail left in it when you run your finger down the back of the spoon.

Serve the chicken with the sauce spooned over it.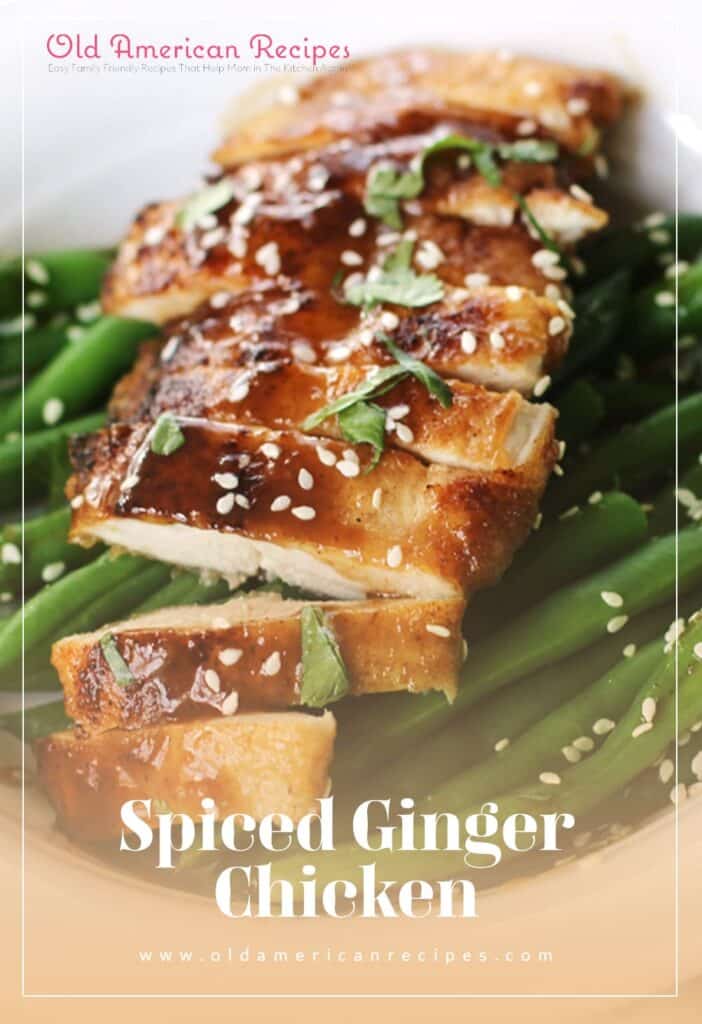 Sharing is caring!