Sharing is caring!
Imagine a buttery almond shortbread crust, filled with a sweet cream cheese mixture, topped with fresh sliced peaches then drenched in a thyme-infused orange glaze.  I couldn't help myself.  The devil made me do it.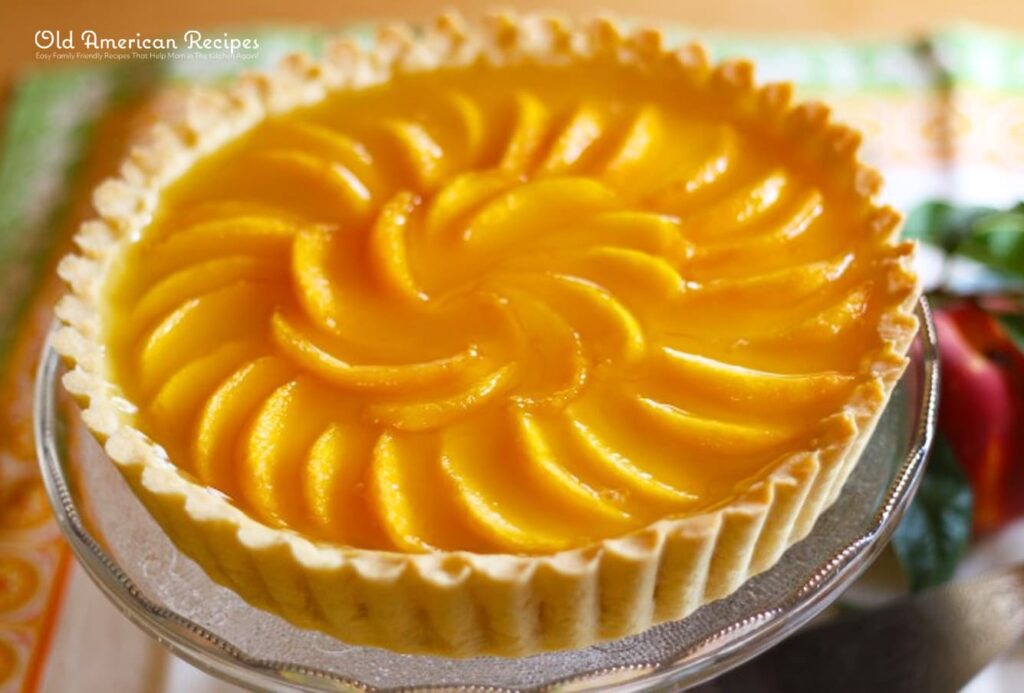 The peaches on the counter were getting ripe.  What better way to use them than as the crowning glory to a cream cheese tart?
This was probably the last hurrah for a summertime fruit dessert.  The days are getting shorter, the air crisp and cooler.  The leaves are beginning to turn glorious shades of copper and gold, signaling a transition to the Fall season.
If you're looking for a grand finale to a dinner party, this peachy yummy treat is sure to impress.  Or if you're like me, you'll keep it all to yourself.  Well, I'm always willing to share. We just won't tell anyone it's here.  Unless they stop in.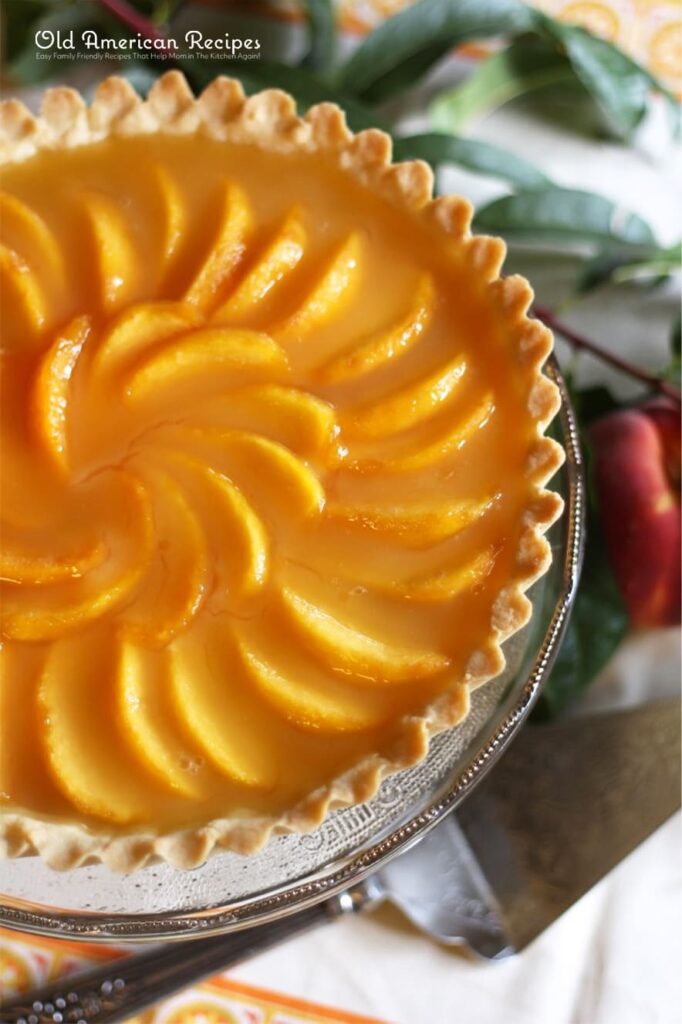 It was with hesitation to even cut in to.  It was so pretty.  Thinking of the sweet layers melting in my mouth at first bite made me grab that knife.  Pure decadence graced the plate, of which I quickly speared with a fork.  Smooth, shortbready, almondy, peachy, orangy, thymey goodness.
Need I say more?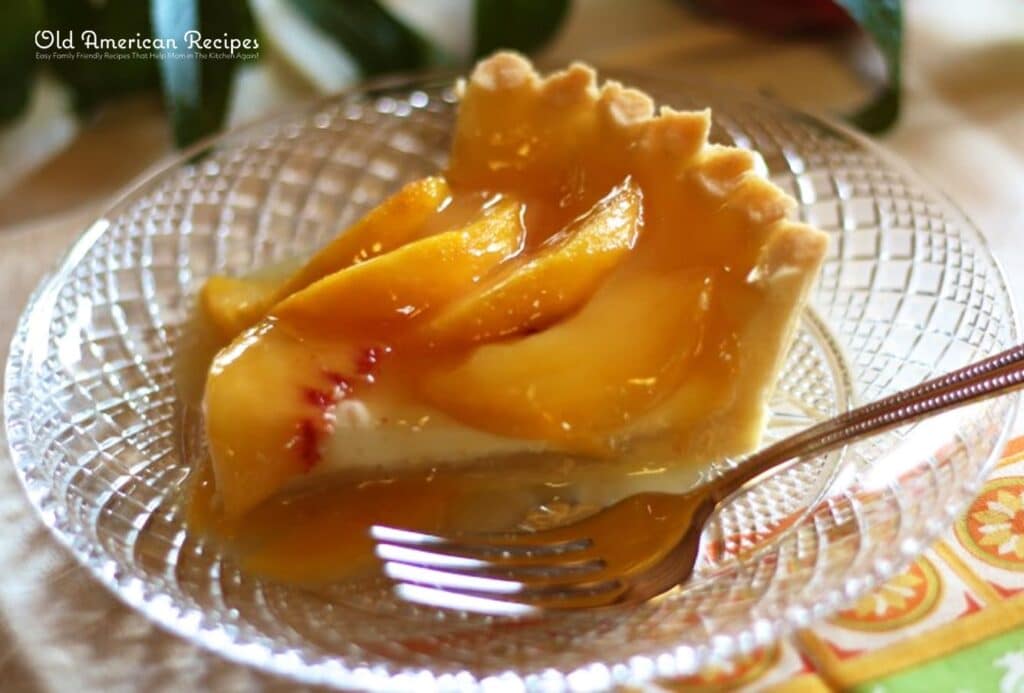 Please put this on your list of "have to makes" or file it away in your recipe box.  Or pull together the simple list of ingredients and make it as soon as you can take a break from all the craziness of life.  The key is to take your time making it.  So make sure you have the time. Savor the process.  Don't just throw it together.  You'll be proud afterward.  The ones that get to enjoy it will be glad you made the effort.  You won't regret it.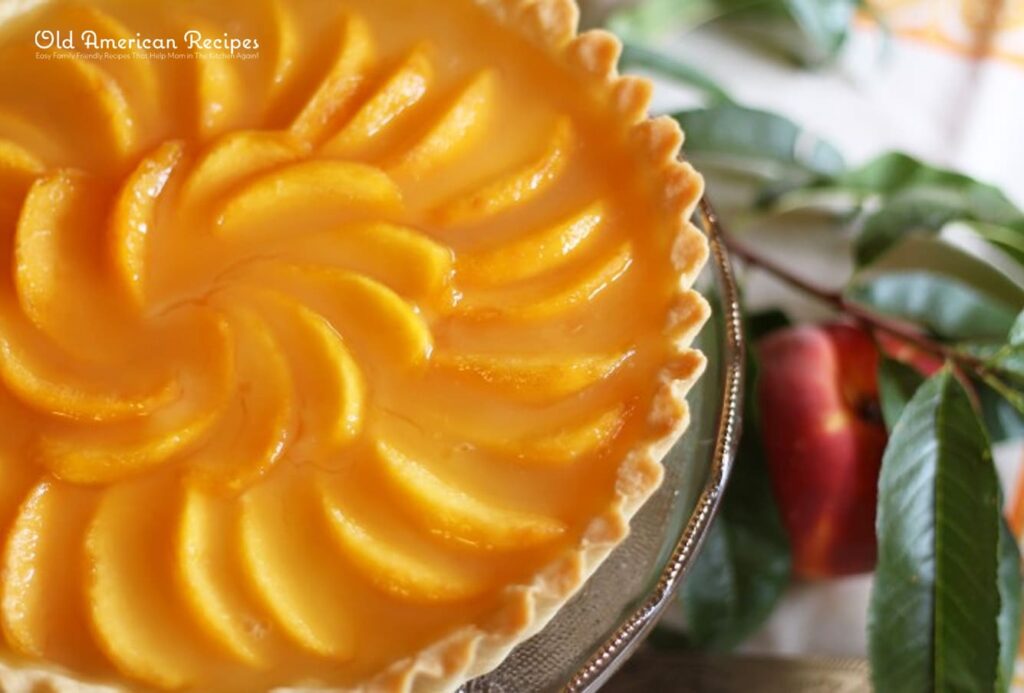 The best type of pan to use to achieve these results like I have is a non-stick tart mold with a removable bottom.  If you don't have one, you could prepare this "pan-style" using a 9″ x 15″ baking pan, spreading the crust only on the bottom.  The elements and construction of this dessert is similar to that of a fruit pizza-of-sorts.
Here's the delicious rendition I put together.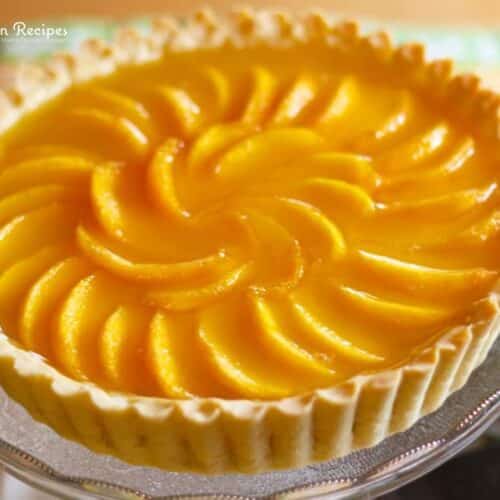 Thyme-Infused Peach Cream Cheese Tart
An almond shortbread crust filled with sweetened cream cheese, then topped with sliced fresh peaches and drenched in an orange thyme-infused glaze.
Ingredients  
For the crust:
½

cup

butter

softened

1

large egg

¾

cups

granulated sugar

2

cups

all-purpose flour

½

teaspoon

baking powder

1

teaspoon

almond extract
For the filling:
8

ounces

cream cheese

softened

¼

cup

granulated sugar
For the topping and glaze:
2 – 3

large fresh peaches

ripe yet firm

¾

cups

granulated sugar

3

tablespoons

cornstarch

1

cup

orange juice

3

sprigs fresh thyme
Instructions 
Preheat oven to 350 degrees.

Set aside a tart mold with a removable bottom, preferably 9″ wide bottom x 2″ high sides.

Cream together the butter, egg, sugar, and extract.

Stir in flour and baking powder. Dough will be soft and crumbly.

Press evenly into bottom and up sides of pan.

Bake in preheated oven for 15 minutes. Remove from oven and let cool on wire rack.

Mix together the cream cheese and sugar until smooth.

Spread evenly into cooled crust.

In a small saucepan, whisk together sugar, cornstarch, and orange juice.

Add sprigs of thyme and stir over medium heat on stove top until mixture starts to boil.

Continue stirring for one minute at full boil.

Remove from heat. Discard thyme sprigs and set aside to cool.

Meanwhile, peel and slice peaches evenly.

Place slices on top of cheese mixture, overlapping beginning on outer edge.

Continue working into the middle until all of the filling is covered with the sliced peaches.

Slowly pour the glaze evenly over the peaches to cover.

Chill in refrigerator at least 4 hours or overnight.

Carefully remove from tart pan, cut , and serve.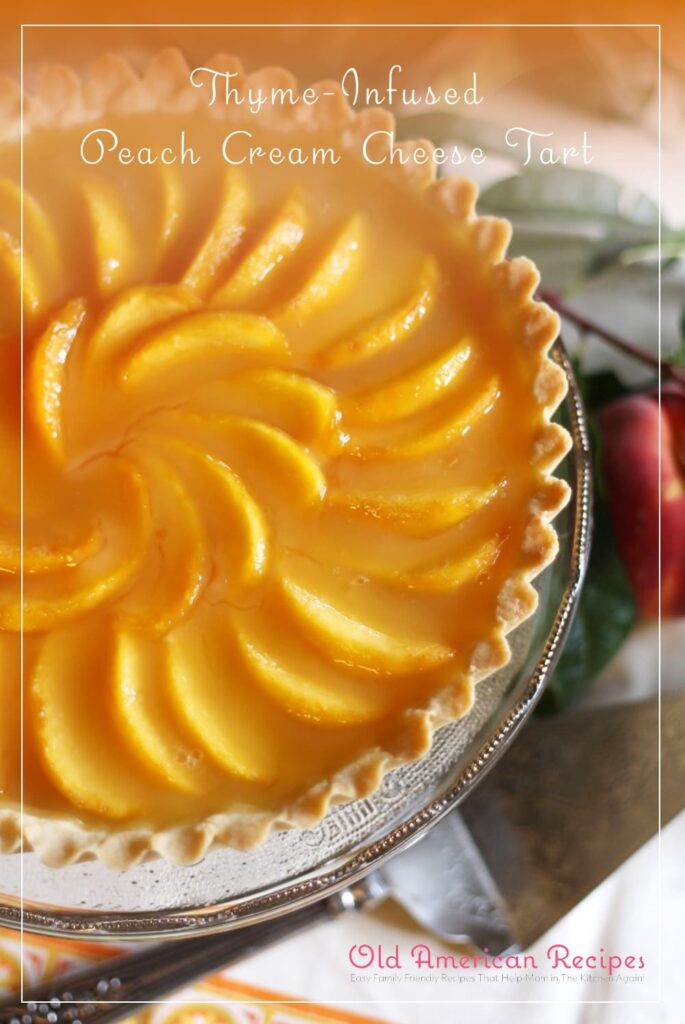 Sharing is caring!