Sharing is caring!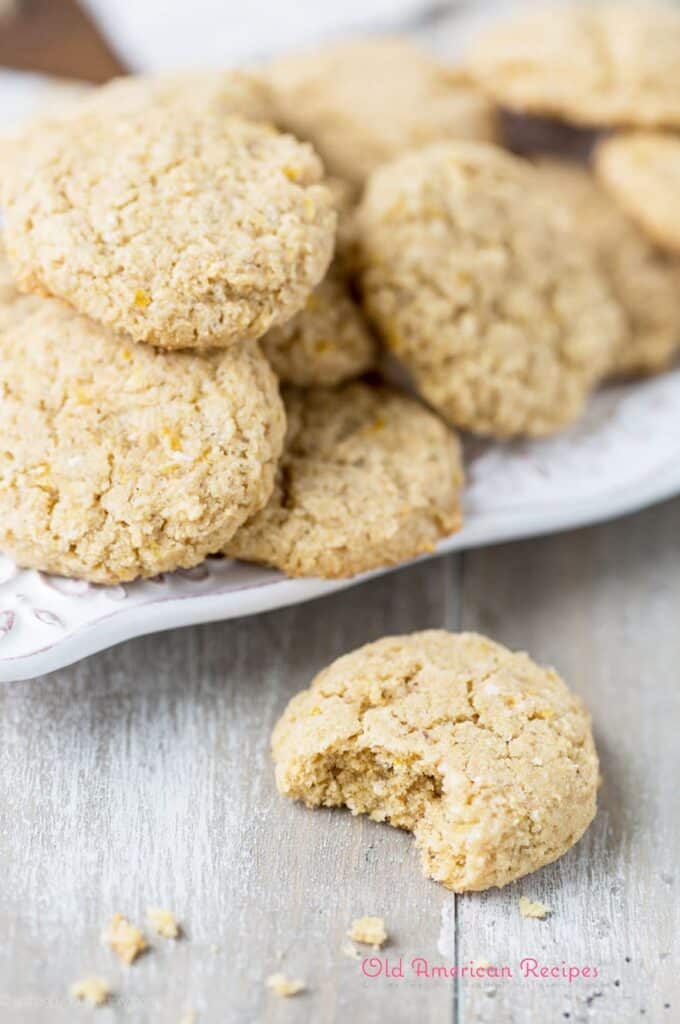 I'll never pass up an opportunity to try to convince myself that stuff like cookies and ice cream are healthy foods and good for you in every possible way. It's my mission in life. And these amaranth lemon cookies, these sunny little morsels, could well be the standard bearer in my never-ending quest. I mean, really. Whole grains? Ancient grains too?  No overly cultivated, GMO-d, Frankenfood here, no siree. Vegan? Plant-based goodness! Gluten-free? Okay, it may be the food fad du jour for some of us—gluten doesn't bother me, phew!—but it can be an issue. And throw in organic for good measure. Check, check, check, check and check. All good for you, right? So yeah, I'm pretty sure you could eat these for breakfast, lunch, dinner and several snacks, no problemo. But don't quote me on that. 
This recipe caught my eye for a few reasons. First, the whole graininess because #CreativeCookieExchange is all about whole grains this month. Second, because it's a twofer recipe—you can either make them thick and chewy or thin and crispy with just a couple of ingredient swaps. (I went for the thick and chewy version because A. I didn't have tapioca flour on hand and I'm trying to curb my instinct to run out and buy stuff I'll probably not have much use for) and 2. it's been another week of dental woes and biting into a crispy cookie just isn't in the cards right now.) Third, lemon. I love it in all its forms. When a recipe says lemon, though, it had better deliver LEMON, which these did, albeit in a subtle way.
Remember it later
Like this recipe! Pin it to your favorite board NOW!
Pin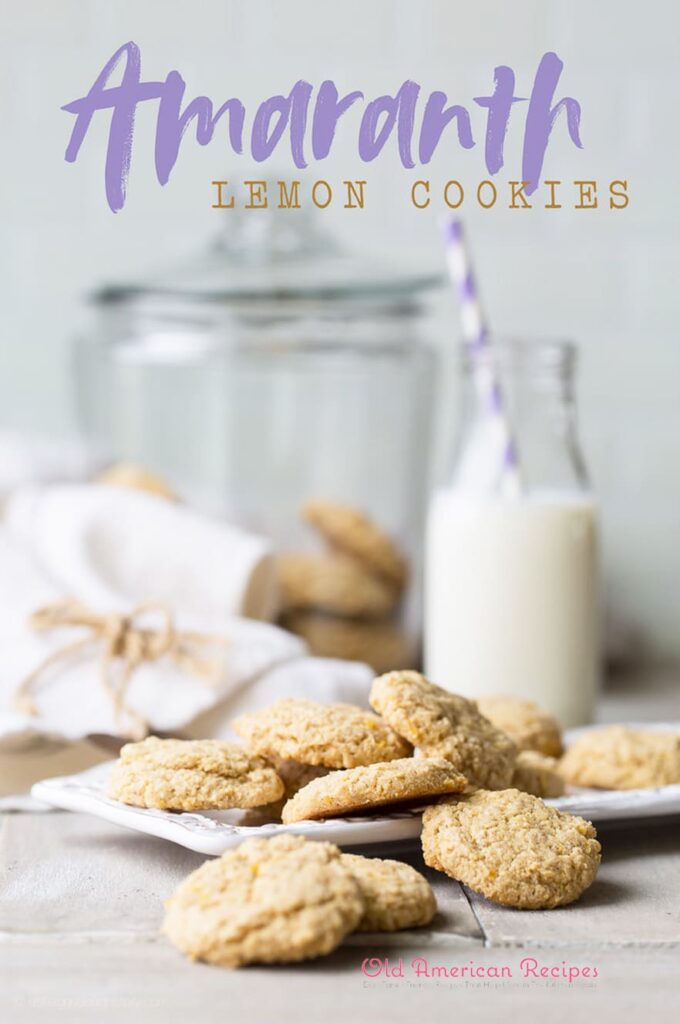 But tell me about this amaranth stuff, you might be thinking. It's an ancient grain, going back more than 6,000 years, is native to Peru and was a major food for the Aztecs. It's a pseudo-cereal, not a true cereal grain, but why pick? It's not (yet) one of those things you can easily find in your local grocery, at least not unless your local grocery stocks a large selection from Bob's Red Mill (luckily, mine does). But it's picking up traction, not only for its taste—think slightly nutty and slightly sweet, at least to my taste—but also for its many health benefits which include, according to the Whole Grains Council (see everything you'd every want to know about amaranth right here), being a protein powerhouse, heart healthy and the aforementioned gluten-free.  Good. For. You. In every possible way. And that's what I keep telling myself each time I inhale another cookie.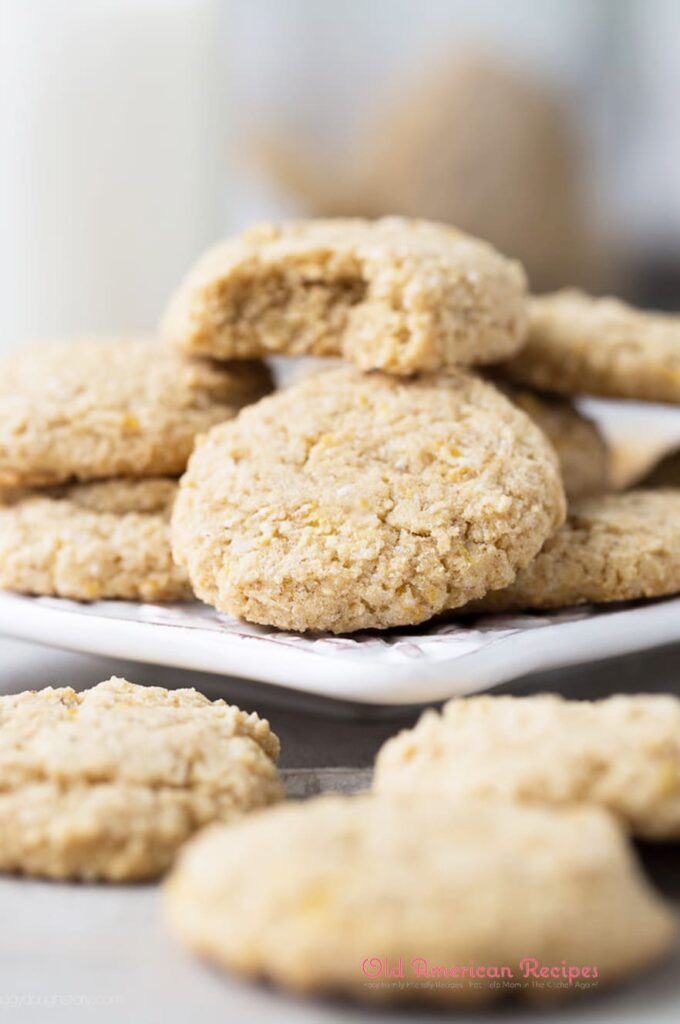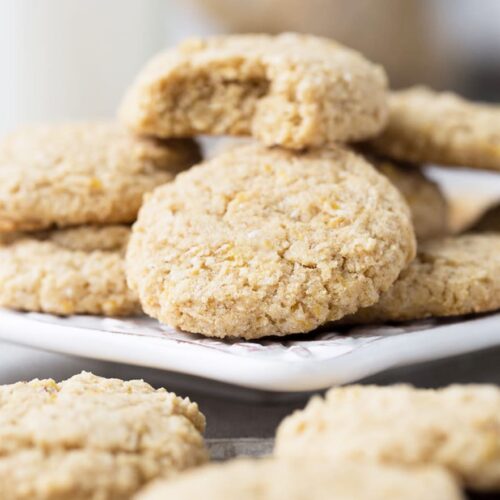 Amaranth lemon cookies
Ingredients  
For a chewier cookie:
2

cups

amaranth flour

1-1/2

tsp.

baking powder

1/2

tsp.

baking soda

1/2

tsp.

sea salt

1/4

cup

finely shredded coconut flakes

1

flax egg

1 Tbsp. ground flax + 3 Tbsp. water, stir and set aside

1/4

cup

lemon juice

2

Tbsp.

lemon zest

1/4

cup

coconut oil

3/4

cup

turbinado sugar

1

tsp.

vanilla

1/4

cup

water
For a crisper cookie, as above except:
Omit 1/2 cup amaranth flour

Omit 1/4 cup finely shredded coconut

Add 1/2 cup tapioca starch
Instructions 
Preheat oven to 350°F and line two baking sheets with parchment paper.

In a large bowl, stir together the flour, starch (for the crisper cookie), coconut flakes (for the chewier cookie) baking powder, baking soda, and salt.

In a medium bowl, combine the flax egg, lemon juice, lemon zest, coconut oil, sugar, vanilla (for the chewier cookie) and water.

Add the wet ingredients to the dry and mix thoroughly.

Scoop the dough onto the cookie sheets using a small cookie scoop. If making the chewier cookies, flatten the dough lightly.

Bake for 15 minutes, switching and rotating the baking sheets, if needed, for even baking.

Cool on a wire rack and store in an airtight container.
Notes
When first mixed together, the dough looked a bit soupy to me, and I was afraid I'd have another blobby cookie fail on my hands. But I let it sit for a few minutes and lo and behold, it came together nicely as a very workable dough that was easy to scoop.
Okay, I feel kinda guilty using Bob's Red Mill amaranth flour, since this is a recipe from Vitacost, but that's what I had on hand and you know, use what you've got. Forgive me, Vitacost, and here's a link to yours, which I'm sure I would have bought if I'd been out. 
As I mentioned, you can definitely taste the lemon in these cookies but it's subtle and just a tad overpowered by the addition of the coconut flakes—at least to my taste since I'm not a huge fan of coconut. I do like a lot of lemon so next time I'd probably substitute the 1/4 water for a 1/4 cup of lemon juice, just to boost it up.
I can't vouch for the crispy variety since I opted for chewy (see above: woes, dental) but I can't imagine they'd be any less delicious, and of course, good for you. Because, whole grains and stuff…
Sharing is caring!