Sharing is caring!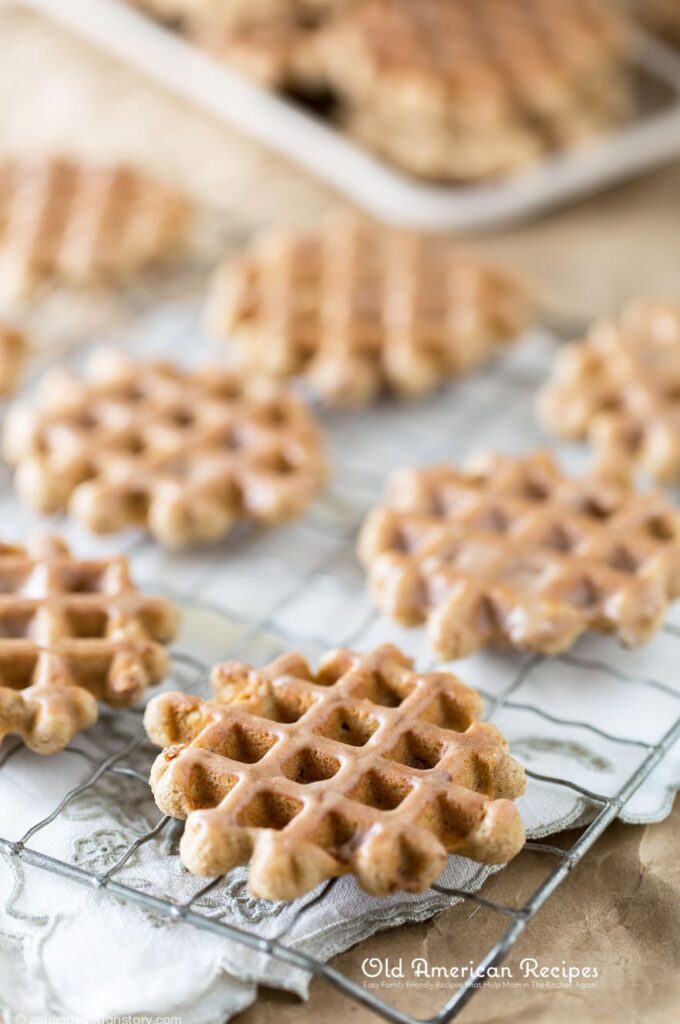 As a kid, I'd always try to sneak some very non-breakfast-y stuff for breakfast. Cold pizza was one (all the basic food groups, no?) Ice cream (it's dairy, good for your bones!) was another. Even as an adult (in the technical sense only), I say, "Why can't we eat non-breakfast-y stuff for breakfast?" I mean, we eat breakfast for dinner, don't we? Why can't snack-y stuff be okay for breakfast? Yet always, in the back of my mind, I'd hear my mother taking exception to this idea, as mothers will do, and I'd cave and head for the Shredded Wheat (okay, only sometimes). Well, no more. I'm giving you, me and everyone permission to have cookies for breakfast. Cinnamon cookies. Cinnamon cookies with a sugary cinnamon glaze. Cinnamon WAFFLE cookies with a sugary cinnamon glaze. Waffles being the key word here because WAFFLES ARE A BREAKFAST FOOD. And that's what you should say to anyone gives you the hairy eyeball for eating cookies for breakfast. WAFFLES ARE A BREAKFAST FOOD. Therefore, by extension, so are these cookies. Take that, Mom!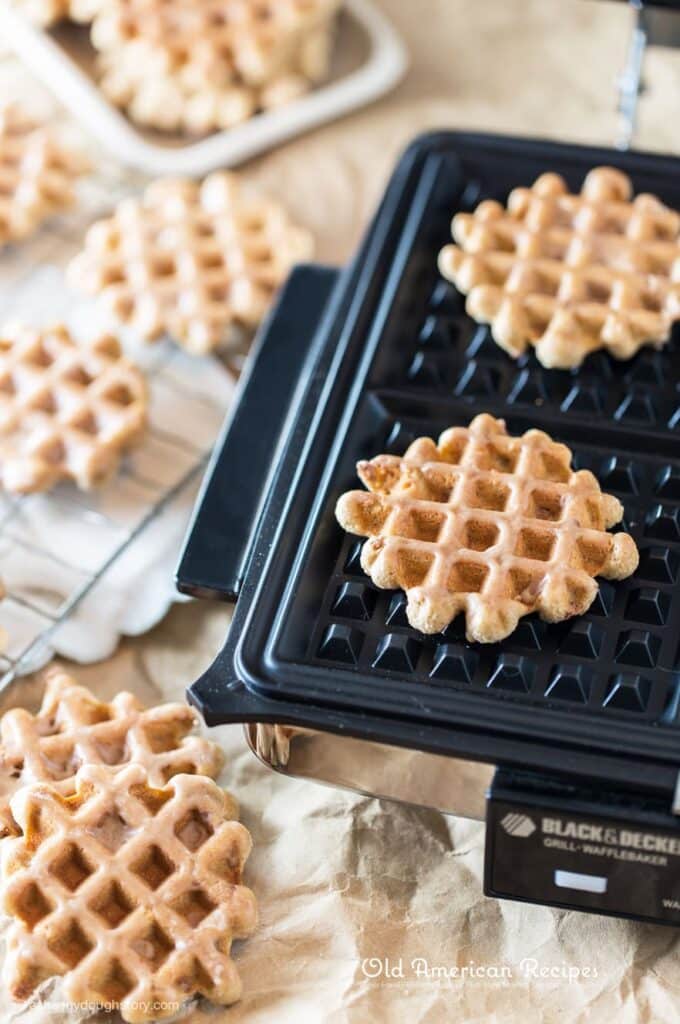 Okay, maybe it's a stretch. But breakfast or not, there's no bad time to enjoy these cookies. Crispy, crumbly, warm and cinnamon-y and just so darn cute—mini waffles! And as long as you do a little pre-planning (because the butter's got to be at room temperature), they're quick, easy and fun to make. Baking cookies on a waffle iron? It's like your Easy-Bake Oven all over again.
So treat yourself. Wake up early one cold, fall day, whip up a batch of these sweet, spicy beauties and sneak in some cookies for breakfast. I won't tell mom.
cinnamon waffle cookies
Ingredients  
8

oz

unsalted butter

room temperature

4

oz

brown sugar

4

oz

granulated sugar

1/4

tsp

salt

2

tsp

cinnamon

3

eggs

5

oz

unbleached all purpose flour

5

oz

whole wheat flour

1/2

cup

cinnamon chips

optional—I used King Arthur Flour's mini chips

Glaze

1.5

cups

confectioners sugar

1/2

–1 tsp cinnamon

to taste

4

tbsp

water

more if needed but the glaze shouldn't be too runny
Instructions 
Stir the flours together in a medium bowl and set aside.

Preheat your waffle iron to medium-high.*

In the bowl of a stand mixer, cream the butter and sugars at medium speed for about 3 minutes or until light and fluffy.

Add in the salt and cinnamon then, with the mixer still at medium, add the eggs one at a time, making sure each egg is fully incorporated before adding the next one. Scrape down the bowl as needed. Once all the eggs are added, mix for an additional 2 minutes at medium.

With the mixer at the lowest speed, add the flour mixture a heaping spoonful at a time and mix until fully combined.

Scoop a heaping tablespoon of batter onto each section of the waffle iron, close and cook for about 2–2 1/2 minutes or until golden brown. CAREFULLY remove the waffle cookies and let cool completely on a wire rack. The cookies will be somewhat soft but crisp up as they cool.

Combine the glaze ingredients in a small bowl and whisk together until smooth.

Dip the top of each cooled cookie lightly into the glaze. (Optimally, you want to try to hit only the raised parts of the waffle but good luck with that!). Place on a wire rack until the glaze sets.
Notes
You can use either a Belgian waffle iron or a regular one to make the cookies. You'll get deeper but fewer divots with a Belgian waffler, more but shallower divots with a regular iron.  No fighting about which one's better, okay?
*It's a good idea to bake a couple of test cookies to see how your waffle iron behaves. I ended up cranking mine up to 11 and the cookies took a little over 2 minutes to bake.
A cookie scoop is a never a bad thing. 
Be VERY careful when you remove the cookies from the waffle maker. They're a bit limp and can break but most of all, they're HOT, especially if you use cinnamon chips. There were more than a few bad words flying round my kitchen until I got the hang of it. Once cool, the cookies crisp up nicely and stay that way.
Remember it later
Like this recipe! Pin it to your favorite board NOW!
Pin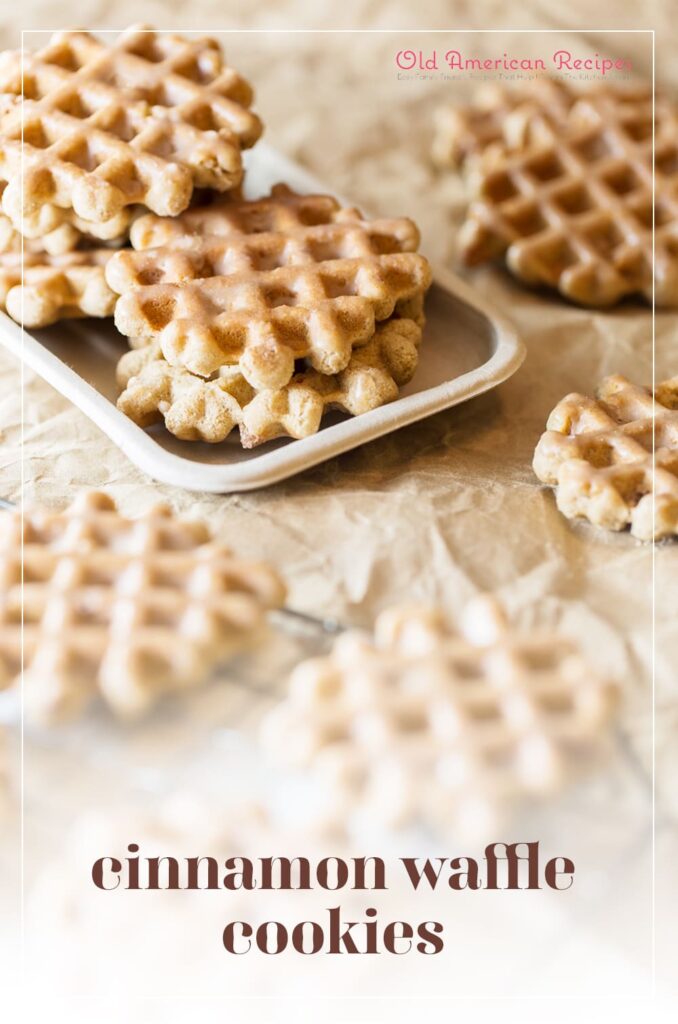 Sharing is caring!