Sharing is caring!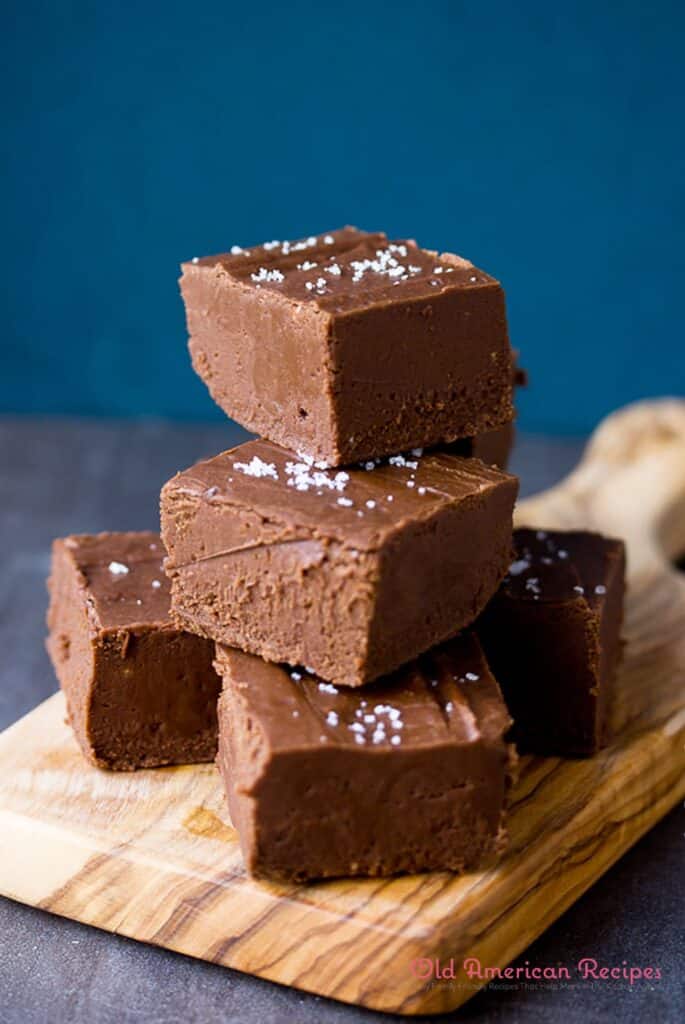 It's been far to long hasn't it? I've really missed you guys!!
I can hardly believe were already into the first week of December! And as usual, things are absolutely crazy 
 I had a few other things planned lately but with the lack of sunlight, photos were not exactly turning out as planned, so back to square one for those. Anyhow, I thought that I would kick off the start of holiday baking with some fudge. Is there anyone out there that doesn't like fudge? Didn't think so.  It's one of those treats that I think that we generally only indulge in around the holidays, so why not make it extra special when you do?
Remember it later
Like this recipe! Pin it to your favorite board NOW!
Pin
I don't remember the last time I made fudge, but I seem to think that I was probably 11 or 12 years old experimenting with some microwave fudge. I guess some things never change 
 Even though this fudge is not made in the microwave, it's still easy and relatively simple to make. What I love about this fudge it uses all homemade components, including homemade marshmallow fluff, which really makes it taste that much better. It really is incredibly smooth and velvety!  What takes this fudge from good to excellent is using high quality chocolate. I know I've mentioned it many times, but it really makes a difference, especially when the main ingredient is chocolate. I opted to sprinkle some fleur-de-sel on top, because you all know that I love the salty sweet combo, but it also helps to cut the sweetness of the fudge, and add another flavour dimension.
So why not add this to your holiday baking list, your friends and family will thank you for it!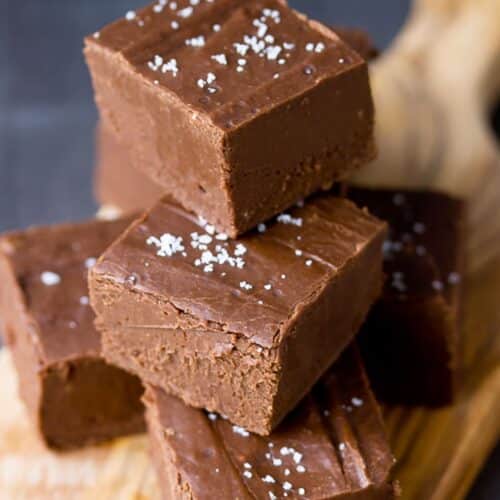 Chocolate Velvet Fudge with Fleur de Sel
A rich a decadent fudge made with dark and milk chocolate, homemade marshmallow cream, and sprinkled with fleur de del.
Ingredients  
For the Fudge
2/3

cup

evaporated milk

2 1/4

cups

Homemade Marshmallow Cream

2

ounces

1/2 stick unsalted butter, cut into cubes

1

cup

granulated sugar

1

cup

firmly packed dark brown sugar

1/2

teaspoon

salt

6

ounces

good quality dark chocolate

60 to 72%, coarsely chopped

6

ounces

good quality milk chocolate

coarsely chopped

2

teaspoons

pure vanilla extract

1/2

tablespoon

fleur de sel

for sprinkling
For the Homemade Marshmallow Cream
2

large

60g egg whites

1/2

teaspoon

cream of tarter

pinch

of salt

1/3

cup

plus 1 1/2 tablespoons sugar

divided

2

tablespoons

water

1/4

cup

plus 2 tablespoons light corn syrup

1

teaspoon

pure vanilla extract
Instructions 
For the Marshmallow Cream
In the bowl of a stand mixer fitted with the whisk attachment, whisk the egg whites on high speed about 1 minute. Sprinkle in the cream of tarter and salt, and continue beating on high speed until foamy, sprinkle in 1 1/2 tablespoons of sugar and continue to beat until soft peaks form.

In a medium saucepan over low heat, stir together the remaining 1/3 cup sugar, water, and corn syrup. Gently stir the mixture until the sugar is dissolved, then turn up the heat to medium and bring the mixture to a boil. Clip a candy thermometer to the pan, and turn up the heat to medium-high, and wait for the mixture to reach a firm ball stage, 246 to 248 degrees F (118-120 degrees C), about 10 minutes. Remove from heat.

Turn the mixer on low speed and slowly stream in the hot sugar mixture into the egg whites. Once all the hot sugar has been added to the egg whites, increase speed to high and beat until the marshmallow cream is about room temperature, light, and fluffy. Add in the vanilla and beat again for 5 more seconds.

Use immediately or refrigerate, tightly covered for up to 3 days.
For the Fudge
Line an 8-inch square baking dish with foil, and lightly spray with cooking spray.

In a medium saucepan over low heat, stir together the evaporated milk, homemade marshmallow cream, butter, both sugars, and salt. Gently stir until the sugars are dissolved. Once dissolved, turn up the heat to medium, stirring constantly, allow the mixture to come to a boil. Clip a candy thermometer to the side of the pot, continue to gently stir until the mixture reaches about 230 degreed F (110 degrees C), about 6 to 10 minutes. The sugars will caramelize, and thats okay, just keep stirring constantly.

Remove from heat and add in both chopped chocolates and gently stir until completely melted. Stir in the vanilla. Keep stirring the fudge until it goes from shiny to matte. Spread the fudge into the prepared pan and let it cool to room temperature. Before it sets completely, about 20 minutes later, sprinkle on the fleur de del evenly on the fudge.

Once completely cool, divide the fudge into equal piece in the size of your preference. It is rich, so a little goes a long way.

The fudge can be stored at room temperature, tightly covered, for up to 1 week.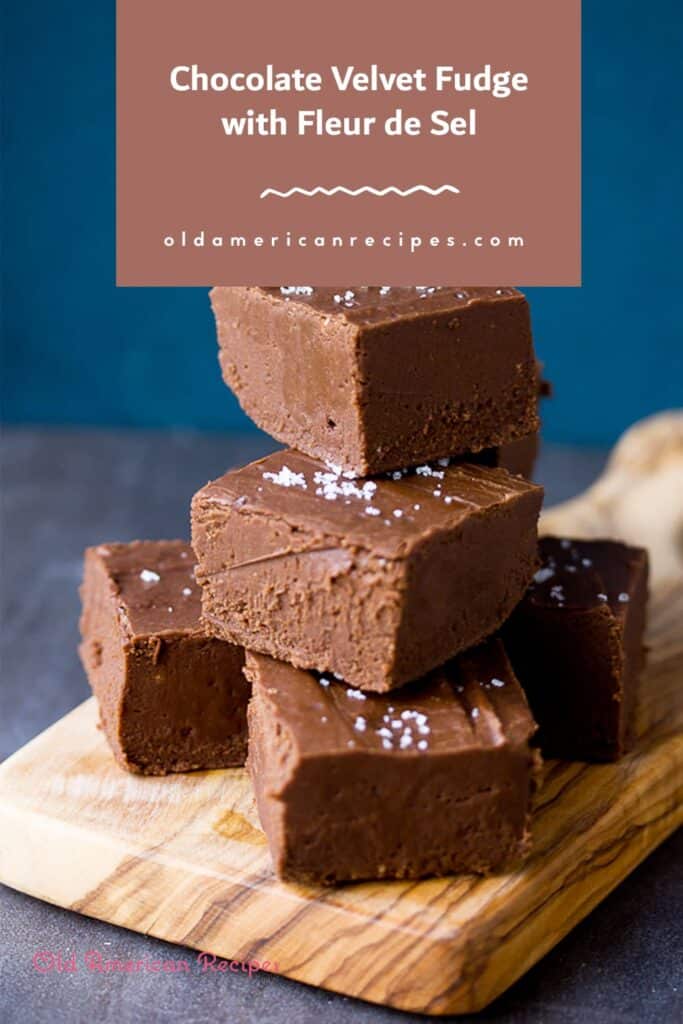 Notes:
For the chocolate I used a 40.5% milk chocolate callet, and a 72% dark chocolate callet.
While this may seem involved, both components were very simple and quick to make. I made the marshmallow cream in the evening, refrigerated it, then made the fudge in the morning. That made it quick and simple.
I know some of you will ask if you can use store-bought marshmallow fluff, and the answer is I don't know. I didn't try it, and have never worked with it, so I don't know how the consistency compares. Making it from scratch literally took less than 10 minutes, less time than it would have taken to go to the store and buy it.
Enjoy!
Adapted from Baked Elements.
Sharing is caring!